Mum with Crohn's disease praised for sharing graphic and honest selfies
The mum-of-two is not letting her disease get her down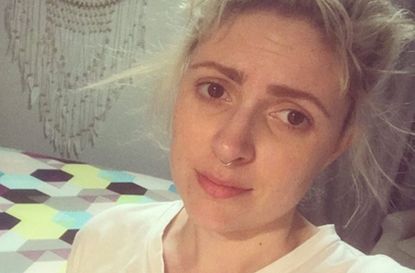 GoodTo newsletter
Sign up to the GoodTo Newsletter. You can unsubscribe at any time. For more information about how to do this, and how we hold your data, please see our privacy policy
Thank you for signing up to . You will receive a verification email shortly.
There was a problem. Please refresh the page and try again.
Krystal Miller has received praise for documenting her Crohn's (opens in new tab) disease journey with empowering pictures.
The 32-year old, who's instagram is 'Bag Lady Mama', was diagnosed with Crohn's disease at just 15 years of age.
Taking to Instagram, the mum-of-two is documenting every step of her journey.
The Australian native was also nominated for the WeGoHealth Awards, she declared: 'I'm here to raise awareness, remove stigma... I'm raw, honest and speak about the "crap" that most people are scared to.'
One Instagram post is particularly poignant, where she talks about being diagnosed. 'I was lonely and scared and just wanted someone to rescue me from my non-existent life'.
Krystal stated: 'My body is scarred and battered. I've survived. Mentally it's taken it's toll.'
She goes on to add: 'I've despised the fact that I've had to have the surgery. I've felt disgust at my scars and bag and feared no one could find me desirable.
'I've never hated my stoma. I've hated that I HAD to have a stoma,' explains the mum.
[instagram]
And the messages of support rolled in: 'Awesome post. You give me hope, strength and positive vibes, whenever I need it. Thank you so much!'
One fan wrote: 'You have no idea how much I needed to hear this from someone that understands, thank u so much for being such an amazing and brave force for awareness 💞''Proud of u!! 👏👏👏' one simply said.
While another added: 'Awesome post! So bold and honest! also think my bag has helped me weed out those people who really worth having in my life - I didn't always feel like it by my ostomy was a blessing! 🙏🏻'
Before reaching a diagnosis the mum-of-two suffered with severe diarrhoea and vomiting, claiming it felt like prison.
Once diagnosed she felt relieved to finally know what was wrong.
However it wasn't until 7 years later she underwent surgery and after that Krystal was told she would be unable to have a vaginal birth.
Undeterred, she went on to have not one but two vaginal births, having to adjust her stoma for both her pregnancies.
For son Luka, she suffered a perforated bowel, which turned septic after his birth.
Sadly Krystal went on to suffer four miscarriages, before eventually bringing her little girl, Arabella into the world four-months-ago.
She is now vehemently trying to assure people that living with a Stoma bag doesn't have to be the end of life.
As her Instagram shows, she is living hers to the full, while running around after her two tots.
'I am here to raise awareness for those living with invisible illnesses and ostomies!' She told MummyPages.
'Lets remove the stigma and show them how awesome we are while rocking our bags out!'