REVEALED: Nicole's diet and fitness tips (including her £2.39 natural remedy!)
The former Pussy Cat Doll spills her secrets to looking so great...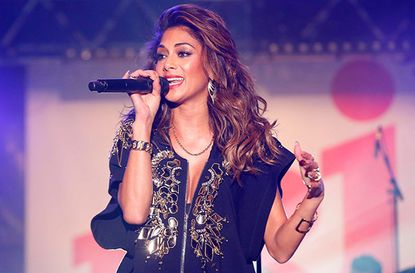 Nicole Scherzinger loves tea and a good Sunday roast – she's a girl after our English hearts.
She fronted one of the best-selling girl groups of all time in The Pussycat Dolls until they split in 2010, stole the hearts of the nation when she joined the X Factor UK for two seasons as a judge in 2012 and has most recently starred as Grizabella on the West End in a celebrated run of Andrew Lloyd Webber's Cats. Is there anything the Hawaiian-born superstar can't do?
When we caught up with Nicole she was enjoying the sunshine in LA, fresh from a weekend partying at Coachella festival in Palm Springs and shooting her latest add for Müller Püd Corner.
We jumped at the chance to hear all about Nicole's health and fitness regime, and guess what? Even with her enviable dancer's body, Nicole has guilty pleasures - 'I love a good pizza, a good curry and a good Sunday roast!' she tells us. As if that wasn't enough to want her as our new best friend, Nicole even admitted that she hates doing her own make up and loves nothing more than a good hot bath...
Nicole's latest role saw her take on Grizabella in Cats the muscial.
Goodtoknow: How do you keep energized with such a busy schedule?
Sleep is key! And lots of water. I also love a good cuppa or a cup of coffee. My new go to thing is coconut water though - I'll have that in the morning and when I'm feeling low on energy throughout the day.
What's your favourite pre and post work out snack?
Bananas or a piece of fruit - I try not to eat too much before a work out so I'll just have something light.
You're incredibly fit - how do you stay in shape?
I'm really into hot yoga right now. I also love to just zone out, listen to music and jog. All you need is a good playlist - especially since the good weather is coming in the UK and there are so many gorgeous parks. I love taking advantage of all those parks when I'm in the UK.
What's the best diet tip anyone's ever given you?
Have everything in moderation. And I have to practice it more myself, but not eating too late at night - it really makes a huge difference.
If we looked in your fridge right now what would we find?
Cheese, turkey, cherry tomatoes, almond milk, a little bit of normal milk for my tea, coconut water, eggs - and all the basics. And a Müller Püd Corner of course!
What's a typical breakfast, lunch and dinner like for you?
My favourite breakfast is six-minute eggs with smoked salmon and toast. Or just scrambled eggs with a turkey sausage or turkey bacon. For lunch I'll have sushi, a sandwich or a salad. And for dinner I love seafood pasta, fish and brown rice and veggies or chicken, brown rice and veggies.
Nicole keeps her body red carpet ready with yoga and jogging.
What are your guilty pleasures?
I love chocolate, I love those kettle cooked crisps, chocolate truffles. I love the new Müller Pud Chocolate Pud with the chocolate balls because it's a little healthier, but it still feels light. Oh, and I also love pizza, a good curry and a good Sunday roast!
What are your top tips for feeling good?
Make a great playlist to inspire you to work out. Try yoga and meditation and pray when you can. Have a bath and a massage to treat yourself - I'm really into aromatherapy so I love bath salts, oils and candles.
What have you got coming up next?
I've got a new show coming up in the US called I Can Do That, which is a one-hour variety and comedy series. And who knows what else the future holds - I definitely want to do more music and I thoroughly enjoyed my time on the west end in Cats. But I'm open; wherever I can be of service and creating some really awesome stuff.
Nicole's favourites
Skincare... I love Proactive+.
Beauty product... Jouer Illuminating Skin Highlighting Moisturiser and Mac's Highlighter.
Make up look... A really good creamy black eyeliner for a good smoky eye. I also love a good contour before you put your bronzer on, on your eyes and your cheekbones and underneath your jaw line - it looks great!
Fashion accessory... I love hats. I wear them all year round, but right now I'm putting all my hair up in my favourite hat so it looks like I have short hair. It changes up my look.
The star's current favourite accesory is a big hat.
Hairstyle... I love my hair with just a little bit of beachyness - a voluminous Victoria Secret type look - like Bridget Bardot meets surfer girl!
Style Icons... Kate Moss, Gwen Steffani and JLo. Kate's got this effortless look. Gwen has a really graphic, smart punk look but she still keeps it street and JLo is like expensive street chic too.
Stress buster... Watch a movie. I saw one the other day called Little Boy - it was fascinating.
Natural remedy... Raw apple cider vinegar. It's great to balance out the acid within your body, so I'll have some before I go to bed or if I'm feeling a bit sick. Just a tiny bit, a sip, cleans you out.
Nicole's hair inspiration is 'Bridget Bardot meets surfer girl.'
Nicole Scherzinger is celebrating her third year as Müller Corner's brand ambassador. Pick up the new Müller Püd Corner in your local supermarket now (subject to availability)
Trusted, informative, and empathetic – GoodTo is the ultimate online destination for mums. Established in 2007, our 15-year-strong archive of content includes more than 18,000 articles, 1,500 how-to videos, and 7,000 recipes.