Mum's shocking photo warns parents about pumpkin patch ticks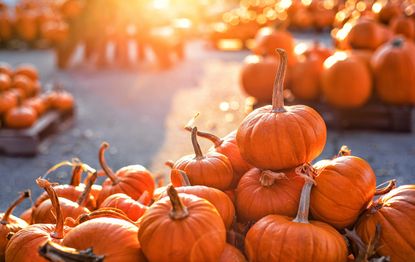 With autumn well underway and Halloween just around the corner, you may well be thinking about pumpkins very soon.
Pumpkin patch ticks warning! Rainy UK Octobers mean loading up on warming pumpkin soups, curries and spiced lattes. And of course, we all need a doorstep lantern come the 31st.
With such a focus these days on organic produce and knowing where your food is coming from, the idea of visiting pumpkin patches is becoming more and more popular - not to mention a fun way of choosing your own.
Like the Fourth of July BBQ and Thanksgiving roast, a day trip to a pumpkin patch is already an annual traditional for our Stateside friends across the pond.
And, like most rituals and traditions in the US, we Brits want a piece of the pie now too. Last year October Google searches for pumpkin patches were doubled the year before.
But one mum has a warning for anyone considering doing a pumpkin patch day out.
After visiting a pumpkin patch in California, Jennifer Hernandez contracted the dangerous disease Rocky Mountain spotted fever (RMSF), as a result of being bitten by a tick during her day out.
In a post on Facebook, the Southern California mum shone the light on the dangerous side of pumpkin patches by revealing a shocking image of the state her visit her left her in.
https://www.facebook.com/photo.php?fbid=1592113347515973&set=a.164309253629730&type=3&theater
'This was me 2 years ago after being bit by a tick and contracting Rocky Mountain spotted fever at a pumpkin patch,' she writes. 'I couldn't walk, my whole body was in pain, my hair fell out, and I almost died. I'm still healing from all this.'
Jennifer admits that it's likely she got bitten because she wasn't covered up. She adds that, as opposed to warning people against visiting pumpkin patches, she is merely highlighting the importance of dressing safely to avoid tick bites.
Anyone can contract the dangerous bacterial disease (that can be deadly if not treated early with the right antibiotic) from being bitten by a tick.
While the disease is not common over here, tick bites in UK can lead to Lyme disease, a bacterial infection that can causes fever and joint pain.
So while you're personally picking out a pumpkin to suit the Dracula carving you've designed, make sure you're covered up.
And, happy carving!
Aleesha Badkar is a lifestyle writer who specialises in health, beauty - and the royals. After completing her MA in Magazine Journalism at the City, the University of London in 2017, she interned at Women's Health, Stylist, and Harper's Bazaar, creating features and news pieces on health, beauty, and fitness, wellbeing, and food. She loves to practice what she preaches in her everyday life with copious amounts of herbal tea, Pilates, and hyaluronic acid.