TV presenter Sarah Cawood opens up about the moment her C-section scar nearly killed her
The TV presenter had life-saving surgery after her bowels attached themselves to her Caesarean scar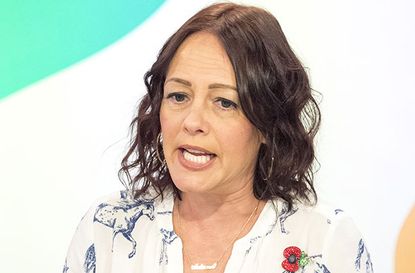 TV presenter Sarah Cawood has opened up about the terrifying moment her caesarean section nearly killed her two years after giving birth.
The mum-of-two had a caesarean section for both of her children, Hunter and Autumn. However, the procedure nearly took her life two years later, when her bowels attached itself to her caesarean scar.
Appearing on Loose Women, the former Top of the Pops presenter opened up about the adhesion, although she did make the point that the condition is incredibly rare.
'What happened to me is very unusual. I don't want terrify women who've had c-sections,' she said.
However, that didn't stop Sarah, 44, going on describe the moment her bowels attached itself to her caesarean scar in grateful, adding that it was like 'velcro'.
She said: 'My bowels got stuck to the scar and then what what happened was unusual. They twisted around on themselves, cut off their own blood supply - my bowels - and went gangrenous'.
Sarah was taken to hospital when doctors discovered the adhesion and operated 12 hours after she was admitted. Sarah added that the illness happened in real-time, meaning the bowels attached to her scar the moment she started feeling unwell and so had no earlier symptoms.
She said: 'I asked afterwards "could I have known this was going to happen?" They said "no it all happened in real-time so when it started hurting, that's when it started.'
She later added: 'Just those 12 hours. So the pain started at 6:30 pm. That's when it stuck like velcro.'
Even though the condition was life-threatening, the presenter told the panel she felt 'blessed' to only realise just how serious her illness was after the surgery.
She said: 'It was only afterwards they said "you nearly died", so none of us knew. My mum didn't know, my husband didn't know until after the danger had passed that there was even a danger, so I feel really blessed actually.'
However, the operation did leave her with a scar, which Sarah admitted she is learning to love. But while Sarah said she would like a 'little tummy tuck' she added that she is 'trying to embrace it'.
She also noted that husband, Andy, has been incredibly supportive, explaning: 'My husband does not care about my, you know, rippy old tummy, or scarred tummy'.
Talking previously about her surgery to the Mirror, she said: 'There are long-standing effects, like I lost the part of my bowel that absorbs vitamin B12, and that's incredibly important, so I have to have shots every three months for the rest of my life, but I've been told I should make a full recovery within a year.
'I've had to change the way I eat – it's like weaning a baby, because my bowel is having to learn all over again how to digest food.'
Charlotte Whistlecroft is a former Family writer at GoodTo. She obtained a BA in Theology and Theological Studies at Durham University, going on to study a masters at City University London in 2016. Since leaving GoodTo she has worked as a Social Video Researcher at Mail Online and is now Assistant Producer at BBC Sport.