We earn a commission for products purchased through some links in this article.
Ask anyone who's ever tried it, and they'll tell you losing weight is HARD.
It's not just a matter of changing your diet and exercise habits, it's a complete lifestyle overhaul that requires a ton of hard work and dedication = so it's unsurprising that those who manage to reach their goals want to show off their achievement to the world.
Shantell Bennett, 24, from Sydney, is a prime example of this. Having lost 50kg through a combination of gastric band surgery, healthy eating and regular gym sessions, she celebrated by going swimsuit shopping, and was thrilled when a size 18 bikini fit her perfectly.
She shared a picture of herself in the suit on her weight loss page, Beauty and the Band, writing alongside:
'Went to kmart and bought some new workout gear today and ive been checking out this pineapple bikini now for a few weeks (i love anything pineapple) and so i got a size 18 and wished for the best…. and they fit so nicely!!! I was going to buy them but i dont think im comfortable enough to wear them in public yet- the irony is that im sharing these photos on the internet for the whole world to see anyway'
Image: Beauty and the Band
Much of the response Shantell recieved was positive, but she was shocked to also see comments telling her that she should 'stick to a one piece', suggesting that the body she'd been working for should be covered up.
Shantell, a mum-of-one, told the Daily Mail Australia: 'It's so wrong for people to body shame, whether they're fat or skinny.'
'My photo's been shared by a lot of women who messaged me and said it [the negative comment] upset them as well.
'It gives them a reason for why they're so self-conscious, that people like this actually exist.
'But it doesn't make me too upset, it makes me more motivated to not just reach my goals but become more confident.'
Shantell then posted the picture again to her personal page, hitting back at the troll and explaining exactly why she was so proud of her shape.
'I had no intentions of ever sharing this photo anywhere else other then my weightloss blog Beauty and the band but after i posted to my page very excited and proud about this size 18 bikini fitting me, i recieved a hateful comment saying i should stick to a one peice.. Heres what i have to say to them and anyone else who agrees….
'This is my body, it has grown and birthed my son and remained healthy and fit even when i was morbidly obese at 164kg. My body has lost 50kg in 5 months and carries me through my personal training and gym sessions every week when my mind has given up and thinks it can go no more.
'My body eats to fuel my workouts and yes i have had weight loss surgery but i work VERY hard. I eat healthy, nutritious foods to fuel this body, i workout daily and with a personal trainer twice a week aswell as bootcamp and now the gym.'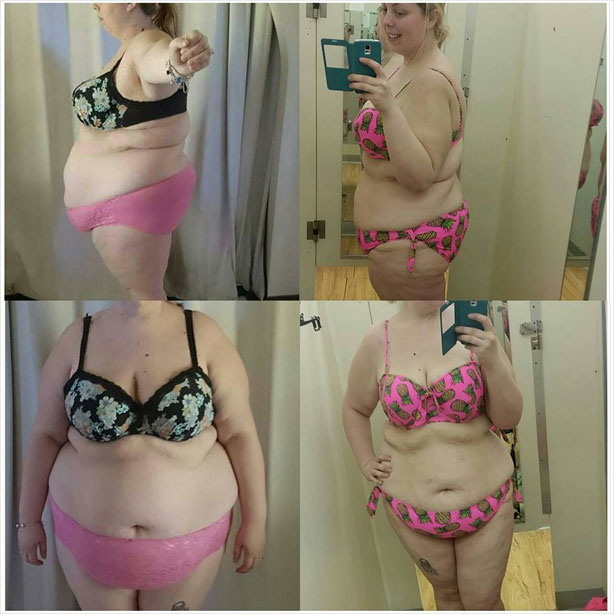 Image: Beauty and the Band
Shantell's before-and-after pictures show just how far she's come
'I may not look like a super model in a bikini but you know what i have spent too many years and nights crying myself to sleep over people like you, who like to body shame and judge others for being who they are. I refuse to let you or anyone else who has anything negitive to say about me and my body affect me or my happiness and confidence- i have worked too GOD DAM hard to get where i am today.'
'So yes i will wear this pineapple bikini with nothing but PRIDE because i AM beautiful, every stretch mark and roll. it is sad that i had to lose 50kg to realise that my worth is NOT dictated by other people and their opinions of me.
STOP the fat (and skinny) shaming.'
'For any other women or man out there who has been bullied about their weight, who has been made to feel ashamed of their body by society or other people, who is just plain sick of hiding to please other people… this photo is for you- i hope my confidence inspires you to be nothing but you!!!!'
Image: Beauty and the Band
Shantell's start weight was 164kg, or around 25 stone 8lbs
Shantell now plans to continue her weight loss journey with the support of the community of her Facebook page, which has grown rapidly since she posted the pictures.
'When I said I was planning on getting weight-loss surgery people thought it was the easy way out, but it's not,' she said. 'And working on my fitness and my mental state has really inspired other people.
'More people started messaging me saying I inspired them … it definitely helped a lot especially if I'm tempted to miss a work-out it really inspires me because people are counting on me in a way.
'It was upsetting, but I have so much love and support.'