Taxi company forced to remove ad after being slammed for 'sexist' drink driving message
The poster shows a plus size woman with the caption 'If I start to look sexy, book a taxi'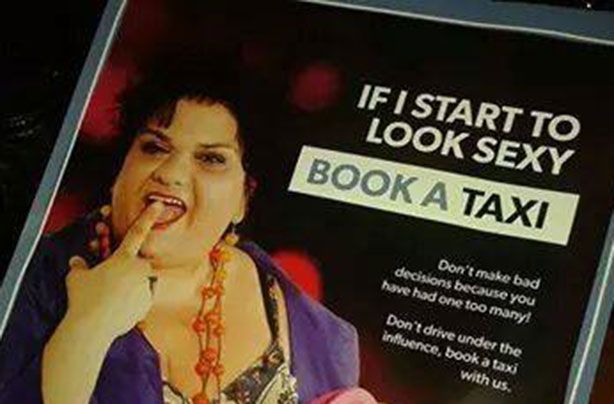 A taxi company has pulled its advert discouraging drink driving after it was accused of sexism.
CityFox Taxis in Bristol angered customers and removed posters showing a woman with the caption 'If I start to look sexy book a taxi'.
The poster, which shows a woman biting her finger alongside the message 'Don't make bad decision because you've had you've had too many!', has angered people who think it's fuelling gender stereotypes.
Another poster, with the same message, shows a man in a white vest licking his lips and holding a beer and has led to claims of sexism.
Bristol Women's Voice has slammed the advert for suggesting that women should be judged by their looks.
Penny Gane, Chair of the society, said: 'We are appalled to see this advert being used by City Fox in central Bristol.
'Images such as this are antiquated and reinforce harmful gender stereotypes and messages that women are to be judged by their physical appearance alone as well as being fat-and age-shaming'.
While the poster, which is targeted at students, is meant to stop people from drink driving, Bristol Women's Voice said this important message shouldn't be tainted by sexist imagery.
The picture caused controversy in 2015 after it was used by another taxi company.
Penny added: 'Whilst we would of course endorse the message of keeping safe, this advert assumes that all students will be drinking heavily and looking for "sexy" women.'
However, the taxi company has defended the poster arguing that it's teaching people to stay safe while drinking.
Sophie Palmer, marketing and communications manager for CityFox said: 'We make no apology for using humour and hard-hitting messages to highlight this issue – in order for people to think about the possible effects of their behaviour it is necessary to get their attention and get a reaction. The campaign has attracted many positive comments.'
However, the company has removed the posters following backlash.
Sophie explained: 'However, it would never be our intention to cause embarrassment or offense, and as such we have withdrawn the campaign.'
The same poster also caused controversy in 2015 after another taxi company used the poster for its anti-drink drink drive campaign.
Charlotte Whistlecroft is a former Family writer at GoodTo. She obtained a BA in Theology and Theological Studies at Durham University, going on to study a masters at City University London in 2016. Since leaving GoodTo she has worked as a Social Video Researcher at Mail Online and is now Assistant Producer at BBC Sport.