The Finding Of Martha Lost by Caroline Wallace book review
Read our review of author Caroline Wallace's novel The Finding of Martha Lost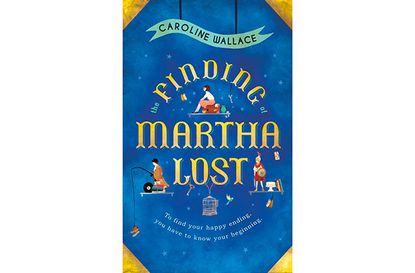 What is The Finding of Martha Lost about?
Abandoned in Liverpool Lime Street Station as a baby, young Martha has been hoping someone will pop into her lost property office to claim her for sixteen years. Inspired by her vivid imagination and a lifetime reading lost books, Martha exists within a magical world of her own creation. She spins rather than walks, believes the devil lives in the basement, and when she touches each lost item, she claims she can see its story. The one story she can't see is her own.
goodtoknow says:
The strange woman who took her in, known only as 'Mother', has never answered any of Martha's questions about where she came from but when Mother suddenly passes away and the powers that be threaten to evict Martha, she finally sets about discovering who she really is. But Martha never does anything conventionally so rather than appeal to the relevant authorities, she writes to the Queen, sticks up a poster asking WHO AM I? in the station, and seeks refuge in the coffee shop next door, where the ever-fabulous Elizabeth works, Martha's only friend in the world. Martha's hunt for a her own story is further restricted by a warning handed down by Mother that should she ever leave the station, it will crumble to the ground. But our childlike heroine doesn't have to stray far from the station walls for adventure to find her. The Roman soldier who eats lunch on the bench opposite; a mysterious figure who lives in the tunnels under the station; and an author searching for a suitcase filled with valuable Beatles memorabilia will all make sure of that. This magical book had me bewitched within a few paragraphs. Martha is an irresistible character, who brings light and laughter into the lives of every person she meets - and will do to yours too! If you love the films Amelie or Hugo, you will adore this magical modern fairytale. I just hope rumours of a movie adaptation are true.
Rating: 8/10 Publisher: Doubleday Publish Date: 10th March 2016
Trusted, informative, and empathetic – GoodTo is the ultimate online destination for mums. Established in 2007, our 15-year-strong archive of content includes more than 18,000 articles, 1,500 how-to videos, and 7,000 recipes.