'I shouldn't have to wait 40 years to take my shirt off at a pool' Dad's inspiring post goes viral
Tony Posnanski vowed to get into great shape so he could take his son to the water park for his birthday - but then he had a realisation...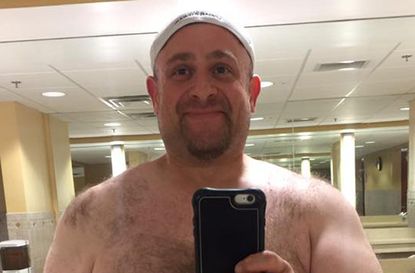 A father-of-two's Facebook post has gone viral after he shared the inspiring story of how he learned to love his body.
Tony Posnanski, a writer who has documented his struggles with his weight over the years on his blog and Facebook page, posted a picture of himself without a shirt on, explaining 'I have lived a life of hating my body and myself.'
He told his 61,000 followers, 'The last two years I have been in a personal hell. I have not been happy and I wish I could pinpoint the reason or the blame but I can't. Not at all. I ate like crap, grew a huge beard and wore Walmart hoodies. And I was not happy.
'Earlier this year my son asked me if for his birthday I would go with him to the beach or a water park. I don't take my shirt off in public. Never. I have always hated the way I looked. So I gave him the old "We will see" response.
'His birthday is in June so I made the commitment to get in incredible shape. Just for his birthday!
'So about a month ago I have been on fire. I eat beyond clean and I workout twice a day and I have lost a lot. I can't even wear the clothes I owned a month ago.
'But something weird happened yesterday. I took off my shirt and looked at myself. Usually I see the loose skin and the hair and the man boobs and the stomach...
'Not yesterday. I saw a person I am in love with. I saw the loose skin but I remembered when it was tight at 420 pounds. I saw the man boobs...but honestly who doesn't love boobs! And I saw all the hair on my chest and wondered why it wasn't on my head.
'And with those three responses I realized that not only am I funny, respectful and hard working, but I don't look bad. I don't have to wait to do things a normal person should be able to do. I shouldn't have to wait 40 years to take my shirt off at a pool.'
https://www.facebook.com/tonyposnanski/photos/a.287369672711.149330.285102642711/10153643416232712/?type=3&theater
Tony went on to compare his picture to the many viral pictures of women in similar circumstances, writing, 'I always hear about women being shamed in bikinis and they come on Facebook and defend themselves. This is not like that. Looking at myself I also see a coward. Why in gods name did I hold back for so long? Why didn't I love myself earlier. Why did I ever think I am ugly? Because I am not. Not to me no matter the comments.'
He added that he'd posted the first photograph he took, no posing or staging, 'just like every single man at the swimming pool.'
'Weight loss is not a marathon,' he concluded. 'I shouldn't have to wait until I cross the finish line to celebrate or think I have accomplished something. I am here. I am happy and honestly I am damn proud of that picture.
'So honestly I am not going into the whole "but I will be better and please be nice and blah blah blah..."
'Here is am. And I shattered my goal.
'I told my son I would take him to the beach or water park or even a pool in June.
'Nope. I will take him today.
'And the rest of my life.'
https://www.facebook.com/tonyposnanski/photos/pb.285102642711.-2207520000.1461754205./10153619241527712/?type=3&theater
The post has since been liked 12,000 times, and has more than 500 shares at the time of writing.
Tony's weight has fluctuated over the years, and in 2010 he reached a staggering 200lbs weight loss - something which he admits on his Facebook page he's struggled to maintain ever since, especially over the last two years. However, in a second post, he said that the reaction to the picture had been overwhelming for all the right reasons.
'Two days ago I posted a picture of me without a shirt. I told a story with it. I posted my true self, loose skin, man boobs and hair and finally felt good about myself,' he wrote.
'As of 6:45am today the post has over 525,000 views and over 1000 comments. But still there is something that I never thought I would ever see in my lifetime. One that should be noted.
'There is still not one negative comment on the post. No snark, no 18 year old girl laughing or someone saying they don't want it on their feed. None.
'I have never encountered this. I got negative feedback when I wrote "Table 9". I got negative feedback when I wrote about my life. I have gotten and received it many times.
'This is strange. Not one. But it also shows you... You are your own worst critic. And I realized my body is a lot better than what I ever saw in the mirror.'
Trusted, informative, and empathetic – GoodTo is the ultimate online destination for mums. Established in 2007, our 15-year-strong archive of content includes more than 18,000 articles, 1,500 how-to videos, and 7,000 recipes.