We earn a commission for products purchased through some links in this article.
We all know burning calories is essential for losing weight, but if nature didn't make you a gym bunny, how do you develop that exercise habit? Addressing the barriers that stop you getting fit is the first step. The second is removing them, so there's nothing standing between you and your dream bod.
Use our quiz to identify your stumbling blocks and discover the solutions that will help you reach your goals. And don't forget to check up on the progress being made by Kim, Sue, Gemma and Sarah – the four women sharing their 12-week weight-loss journeys with us, supported by Denise van Outen.
1. OK, be honest now, how fit do you really think you are?
a) Does getting up to fetch the TV remote count?
b) I run around after the kids, walk the dog, traipse round the supermarket…
c) I could give Davina McCall a run for her money
2. Is exercising, such as getting on a bike or swimming in your local pool, something you've ever imagined yourself doing?
a) Getting cold and wet out of choice? No thanks
b) I attempt to go once a week, but I'll admit – it's tough
c) Be right back, gotta get out of this swimming gear and hop on my bike
3. We all love a bit of fashion glam, so ideally what would you choose to wear to exercise in?
a) If I could excerise in my pjs that would be fantastic
b) I have some old jogging bottoms and a t-shirt hanging around – those will do
c) Skin-hugging Lycra anyone?
4. Life can be pretty hectic at times, so realistically how much spare time do you have to exercise each day?
a) Spare time? What's that?
b) Probably 30 minutes, although I'm likely to spend that catching up with EastEnders instead 
c) At least an hour, there's always time for excercise!
5. If your budget has to S-T-R-E-T-C-H like your gym kit, does the cost of classes or equipment put you off?
a) Why pay for a gym! My living room floor has much more space!
b) If I can find a cheap gym deal I'm there c) Money is no object when it comes to getting fit!
Mostly As – Newbie
Confidence is a big issue for you, but by reading this far you've proved you want to make a change.
Commit to starting some exercise this week – even if it's bursts of 10/15 minutes every second day, it's a step in the right direction.
If time and money are short, make housework part of your activities and play some energising music to make it more fun. Whenever you can, walk rather than use the car or bus.
Be active with the kids as much as possible – suggest park outings and join in their games.
Keep a diary and tot up the calories you've burned (light housework burns 240kcals an hour; walking burns 185kcals an hour, 360kcals if it's brisk).
Buy a T-shirt and legging specifically for exercise to incentivise yourself.
Mostly Bs – Fitness wannabe
You want to get fitter and slimmer but aren't sure where to begin.
Look at your weekly schedule to see where you can fit in exercise sessions. Walk the kids to school, but try a gentle jog back home.
Check out some of ideas for exercise that you can do at home whenever time allows.
Find out about local classes like aquarobics, Legs, Bums and Tums, Zumba or even salsa.
Ask your partner or a friend to look after the kids once a week while you exercise.
Invest in some feel-good exercise wear.
Mostly Cs – Exercise ace
You're full of good intentions – all you need is a bit more grit to stick to a regular routine.
Use a diary or your phone to schedule in your exercise sessions. If you treat it like an appointment/meeting, you are more likely to stick to it.
Aim to do at least 30 minutes exercise five days a week in your first week, and increase that wherever possible on subsequent weeks.
For home exercise ideas, try online fitness resources, such as this website and nhs.uk, where there's a great Couch to 5k running programme and a Fitness Studio.
If an exercise buddy would help, line up one or two friends for power walks or runs. And try some classes together.
Keep a note of your exercise times and the calories you've burned. At the end of the week, reward yourself with a home pamper session.
Give yourself something to work towards, like signing up to a 5k/10k run.
With support from TV star Denise van Outen, who's an advocate of healthy living and being active, plus a helping hand from weight loss aid XLS-Medical Max Strength, Kim, Sue, Gemma and Sarah have started their weight-loss journeys by making healthy changes. But who's managed to take on a new exercise regime?
Kim – 39, from Market Harborough – has joined a gym and is working out with personal trainer Andy. She confesses, 'I've always worried I'm going to look a fool in the gym when I can't remember how to use a machine.' But Andy thinks she's doing fine. 'Kim has made conscious changes and she's started to lose weight immediately,' he says. 'I'm very proud of her.'
Using a personal trainer, like Kim is, is a great way to get started at the gym, especially if you find a new environment a bit intimidating. A few sessions should be enough to get you going, and after that you'll probably feel comfortable enough to face the gym on your own.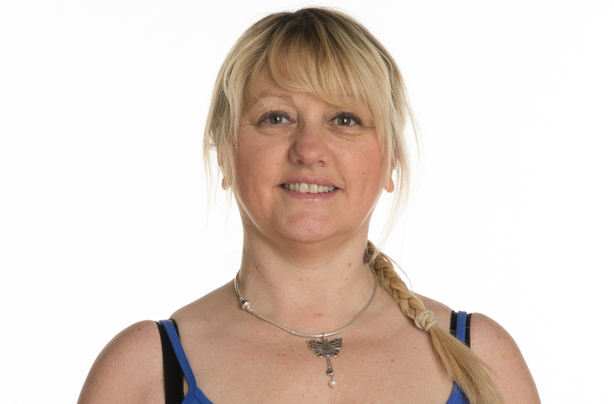 Sue – 49, from Stratford on Avon – decided to rope the whole family into her new exercise routine, including the four-legged members! 'At the weekends we like to do things together as a family, and when the weather is good we all go out with the dogs. It's an extra bit of exercise, but it doesn't feel like exercise because we're spending time as a family.'
Sue has found a great way to burn some extra calories while also having fun and enjoying quality time with her family. For many of us, our lives are so busy it can be challenging to find separate times to exercise and to be together with your loved ones, so combining the two can be a practical solution.
XLS-MEDICAL dietitian Jodie Relf, says eating a balanced diet and staying active is the best way to lose weight – and keep it off. But sometimes we all need a helping hand. XLS-Medical Max Strength, is the most effective slimming aid yet from XLS-Medical*. It is clinically proven to reduce your calorie intake from carbohydrates, sugar and fat – and because it stabilises blood glucose, it also helps curb food cravings, so you lose weight faster*.
Working naturally with your body, women have found XLS-Medical Max Strength helps towards their weight loss goals faster than dieting alone* – simply take two tablets half an hour before your two main meals a day.
For more information and to watch the documentary Weight Loss – My Journey, hosted by Denise van Outen, go to xlsmedical.co.uk
* Reference: Grube et al. (2015)
** Weight loss from real women