'When I got back to my hotel I cried in the shower' Woman who lost over 8 stone fat-shamed by shop staff
'I quickly bought the two things I had in my hand that I had found and left the store. I was so embarrassed!'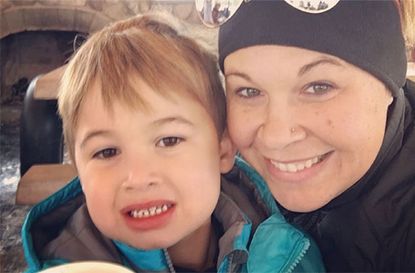 A woman has opened up about the humiliation she felt after she was mocked about her weight by members of shop staff.
Heather Albert, from Las Vegas, had recently lost 80llbs through weight loss surgery and it was her first trip to the shop, called Lulu.
However, although she felt 'proud' about her weight loss and wanted to treat herself, the trip turned out to be a humiliating experience.
Heather posted on the store's Facebook page about her visit, calling it the 'WORST experience ever here'.
On the post, she explained: 'I had weight loss surgery a year ago, and have lost 80lbs. I'm pretty proud of myself!'
Heather added that her fiancé told her to go and buy something as a reward, saying: 'I was so excited to finally go to a retail store!'
https://www.facebook.com/lululemonParkCity2/posts/1310402135665719
However, Heather said as she walked up to the sale rack in the shop, she overheard two members of staff talking about her.
She said: 'There were two EDs in the store, and I was the only customer. Shortly after I walked in, I heard one ED whisper (loudly) to the other, "DO we even have anything in her size??" and both proceeded to giggle.'
As the only customer in the store, she said: 'I knew it was directed at me. I was mortified. I quickly bought the two things I had in my hand that I had found and left the store. I was so embarrassed!'
https://www.facebook.com/photo.php?fbid=10210602404552842&set=picfp.1128863403.10209176521386654&type=3&theater
Heather added: 'I had a work function to go to that night, when I got back to my hotel I cried in the shower.'
After going through such a humiliating experience, Heather said it's put her off from shopping in retail stores altogether. 'Now, I realize that not everyone fits into Lulu, but I'm a street size 10/12 and in Lulu I'm a 10/12 top and an 8/10 bottom. I'm not even close to maxing out on size there!
'I'll stick to the outlets and online shopping from now on.'
She later revealed to the Daily Mail that she had been contacted by the assistant manager and manager of the store who had asked her for a description of the sales pieces.
She explained that the Facebook post wasn't to get publicity, but to get an apology for the way she was treated.
https://www.facebook.com/photo.php?fbid=10210602404552842&set=picfp.1128863403.10209176521386654&type=3&theater
Heather said: 'If it ends up fixing the people that were rude to me, so that everyone feels welcome to shop in the store and nobody feels ashamed, then I suppose I've gotten through.
'I just hope that no one else has to go through that.'
A spokesperson for Luluemon told the Daily Mail: 'We welcome everyone in our community into our stores and love to celebrate the creation and completion of health and fitness goals — regardless of shape or size'.
Charlotte Whistlecroft is a former Family writer at GoodTo. She obtained a BA in Theology and Theological Studies at Durham University, going on to study a masters at City University London in 2016. Since leaving GoodTo she has worked as a Social Video Researcher at Mail Online and is now Assistant Producer at BBC Sport.