'My ballsack tummy is gross' Woman who lost five stone opens up about side effects of weight loss
'I mean yeah we talk about it a bit but no one really wants people to know that you look like this underneath your new size 6 dress'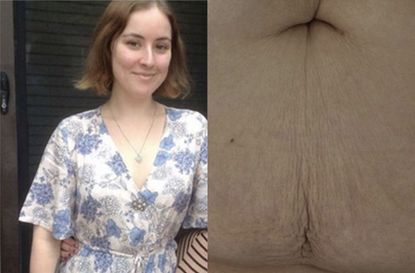 A woman who lost over five stone has shared her story to show what really happens when you lose a lot of weight.
Sharing the photos of her journey on Imgur, the woman - who uses the name Camillehaus - opened up about the realities of weight loss.
While she began by telling people that 'weight loss can take many different forms', she said: 'This is the story of exactly how I lost weight plus the side effects of weight loss.'
Camille said that since losing weight, she's already lost over five stone (72llbs) and now weighs under 9 stone (125llbs).
Image: Imgur (opens in new tab)But it wasn't an easy journey. Camille said that in 2010: 'I had no interest in weight loss at all and was convinced I'd be fat forever because who can be bothered losing weight. I can't say exactly how much I weight but I'm assuming it was around 90kg (nearly 200llbs)' (opens in new tab)
She officially started losing weight in 2014, and now Camille has shared the pictures of her amazing transformation. 'As you can see there is a bit of a difference. I mean how good to I look now? Pretty fricken good is the correct answer.'
Image: Imgur
However, Camille admitted the process was not a fun one, and that 'it sucked'. But her main reason for posting the pictures of her weight loss was to talk about the excess stomach skin she's been left with since losing weight.
She said: 'Now here's what I really wanted to talk about. My ballsack tummy. It's gross. But it's a result of weight loss that most people don't talk about.
Camille added that she hopes sharing the image will get more people to talk about this side effect of weight loss, and help people understand it's perfectly normal.
Image: Imgur
She said: 'I mean yeah we talk about it a bit but no one really wants people to know that you look like this underneath your new size 6 dress. Unless you go to the gym every day and tone every inch of your body you will look like this.
'It's perfectly normal and over time it will go away (unless you're around 40+ as your skin looses its elasticity, in which case you would have to work out 10 times harder for it to go away)'
Camille also admitted she has stretch marks (opens in new tab) over she body. 'Let me make this clear, STRETCH MARKS WILL COVER YOUR BODY! You cannot escape them, you'll get them on your thighs, butt, back, arms, stomach, calves, groin & boobs.'
Image: Imgur
However, rather than hating them, she said: 'The important thing to remember is they are not ugly or unsightly, they're a reminder of what you've achieved.'
At the end of her post she gave readers advice on how to lose weight including not to listen to people who won't fully support you, and to find people who will motivate you and help you keep going.
Charlotte Whistlecroft is a former Family writer at GoodTo. She obtained a BA in Theology and Theological Studies at Durham University, going on to study a masters at City University London in 2016. Since leaving GoodTo she has worked as a Social Video Researcher at Mail Online and is now Assistant Producer at BBC Sport.