We earn a commission for products purchased through some links in this article.
A young British woman is raising awareness for people born with birthmarks by sharing pictures of herself on social media.
After being invited to star in reality TV shows for people who are 'undateable', 23-year-old Lexxi Harford, from Stoke-on-Trent, Staffordshire, decided to take action and show off her red birthmark by uploading a photo to Imgur to raise awareness.
Her inspiring post, including pictures of herself with make-up covering her birthmark and without, soon became viral. It's since had over 105,645 views and 700 comments in 16 days, with users leaving uplifting messages like 'Your birthmark looks awesome!' and 'I still think you're gorgeous with or without it'.
Image: Imgur/Lexxi Harford
Lexxie showing her birthmark in the post
Reflecting about what the point of her post was, she wrote: 'A lot of people are curious, or a lot of people with birthmarks cover them, so I like to show it off to raise awareness.'
She also wrote in her post that she's 'absolutely not self conscious about it at all' and although people do mistake it for a bruise, it's not that common.
Lexxie, who's a character artist and a keen social media user, said the post's success is great for what she was aiming to do to in the first place – raise awareness.
'I know the first night, the individual photos had over 100,000 views. It was really amazing in terms of the fact that I've always wanted to raise awareness; I just never figured out how', Lexxie told ABC News.
'The next time they see someone with a birthmark they won't forget. They'll know what it is and they won't get freaked out.'
Even though she feels confortable with her own birthmark, Lexxie said everyone needs to do what makes them confortable, even if that means covering it up. She also wanted her post to be a way for people to ask questions and find out more about what it's like to have a birthmark.
'I always wanted to show a birthmark with an open line of communication, where people could ask lots of questions. I understand why people are upset or offended or want to cover it up,' Lexxie said.
'I know some people have laser surgery and I don't think that's wrong at all. You have to do what makes you feel comfortable and I feel comfortable like this, that's all.'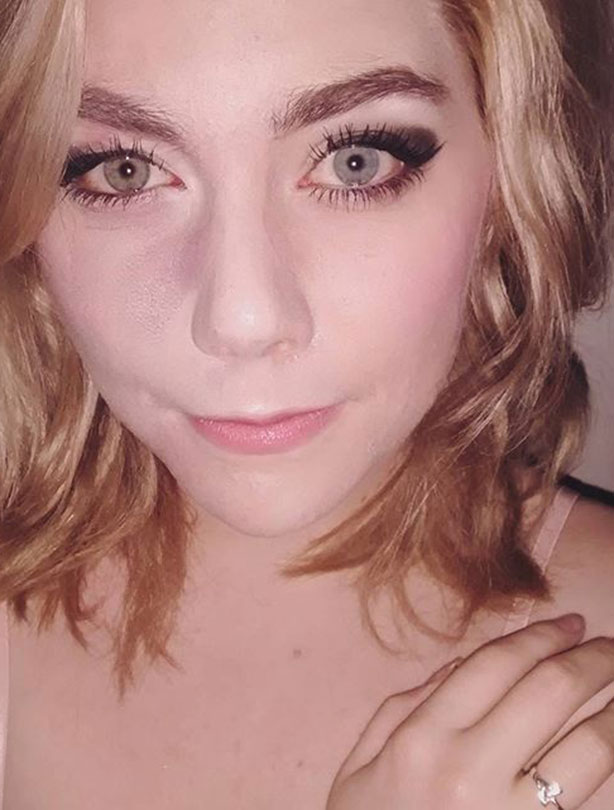 Image: Imgur/Lexxi Harford
The 23-year-old also posted a picture of her with make-up covering up her birthmark
It wasn't until the age of nine that Lexxie became aware she was 'different'. As a kid, she was never bullied at school, and decided to stop covering her birthmark after college to embrace her natural appearance.
She has been contacted by two different reality TV shows in the past, who wanted her to take part in a documentary series that focus on single people with 'disabilities' or 'medical conditions' who are on a quest to find love.
Lexxie declined both offers from TLC's Too Ugly for Love and Channel 4's The Undateables, and told ABC News: 'If they [people with birthmarks] accepted themselves, they really wouldn't go on a show like that. I would try and get that person to see themselves differently.'
Her post has also inspired a lot of mothers of children with birthmarks to get in touch with her, because they are concerned about how their children will grow up. Lexxie certainly is a great role model!