Aaron Paul's wife responds after fans raise safety fears concerning her baby's car seat
Aaron Paul posted a picture of his daughter in car seat and when fans flagged a potential safety hazard wife Lauren was quick to thank them.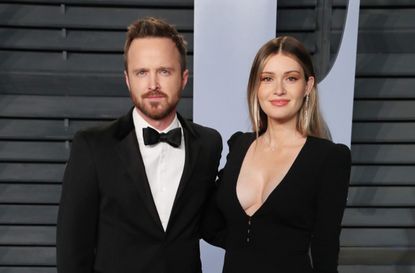 Actor Aaron Paul shared a picture of his daughter in a car seat and fans were quick to warn him about a potential safety hazard, something his wife Lauren Parsekian was clearly thankful for.
Aaron, who shot to global fame in TV series Breaking Bad, and his wife Lauren welcomed their first child together in February. The couple have posted lots of adorable pictures of their new family member and Lauren has also spoken openly about the struggles of adapting to life as a mum.
In one of Aaron's latest Instagram posts he showed off his little girl in a car seat. While many fans cooed over the cute tot, others spotted something they found concerning about the picture.
Taking to the comments section on Instagram, many of the star's fans and followers were quick to point out a potential issue with the baby's car seat, and warn that the straps were not very safe.
One person wrote: 'I just read a story about how a mom's baby flew out of the car seat in a crash because of her after-market shoulder straps. Please be careful with that baby.'
While another fan added, 'Super cute baby 💜 not to ruin anything by saying this. But those strap cushions are extremly unsafe.'
They were clearly trying to help and another person explained why the car seat was dangerous in more detail. They wrote: 'Just be careful with those market pads. They make it so you can't get the shoulder straps as tight as they should be.'
Lauren clearly appreciated the heads up and the new mum took the time to reply to the worried fans. Commenting on the photo, she explained that the couple were borrowing the carseat while they were away but that they would warn the owners.
She said: 'oh wow that is so so sad :( I had never heard that before! This isn't our car seat. Borrowing it while visiting family. Good to know though and I'll share this with the person who owns it. 💕'
Several other people praised those who flagged the car straps as a potential hazard. They wrote how helpful the advice was and that it was refreshing to see people give advice to fellow parents without instantly criticising other's choices.
One wrote: 'I just wanna say that I love that you didn't say this in an attacking manner! Because as someone else stated in this post not everyone knows the small things that could potentially be harmful to babies. They may know about this issue but it's better safe than sorry!'
For many new parents, car seat safety is something that can cause a huge amount of worry. There is so much information out there and it can often feel overwhelming when trying to pick the best car seat for your child.
Both the NHS and the government have valuable advice on their websites about car seats for children and the law surrounding car seat safety in the UK. For more information visit gov.uk/child-car-seats-the-rules.
Jessica currently works as a Senior Food Writer at Future. She writes food and drink-related news stories and features, curates product pages, tests, and reviews equipment, and also develops recipes that she styles on food shoots. An enthusiastic, self-taught cook Jess adores eating out and sharing great food and drink with friends and family. She has completed the Level 1 Associate course at the Academy of Cheese and is continually building on her knowledge of beers, wines, and spirits.