These are the best car seats for babies in 2023: 11 options tried and tested by parents
Transport your little traveller from A to B safely with the best car seats on the market right now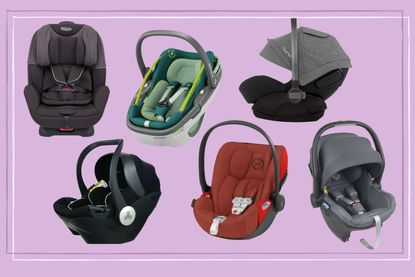 (Image credit: Future)
When it comes to driving with your baby in the back, only the best car seats for babies will do. We asked parents to put 11 of the top car seats for babies to the test. Find out how they fared right here.
Once armed with the best car seats for babies, you can get your most precious cargo from A to B safely in comfort and style.
If you're a first-time parent, it can be daunting working out which is the best pram or the best baby carrier to buy. And the same goes for the car seats. After all, there is nothing more important than your child's safety. So it's important to get it right.
To help you make the right choice, and make the process a little bit easier to navigate, we've hand-picked the best car seats available and asked a panel of parent reviewers to put them to the test. We chose parents with babies of different ages to get a sense of the best car seats for various stages of development and made sure all of the car seats featured are suitable from birth.
Over the course of several weeks, parents tested these options out with babies aged between 11 weeks and nine months old. Based on their exclusive feedback and comprehensive reviews, this is our roundup of the best baby car seats for 2023.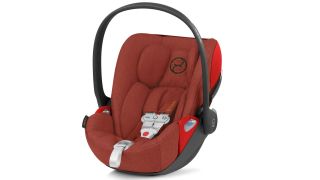 1. Cybex Cloud Z iSize
Best car seat overall - a rotating seat that reclines flat outside of the car
Specifications
Weighs: 4.8kg
Age range: Birth-24kg
Reasons to buy
+
Swivel base
+
Reclines flat
+
Stylish design
Reasons to avoid
-
Expensive
-
Base not included
We say: This is an excellent rear-facing car seat with exceptional safety features, a stylish design, and – our favourite bit – a rotating base. In other words, you don't have to be a contortionist to get your baby in and out of the car.
The Cybex Cloud Z is perfect for parents who want a smart-looking car seat packed with safety features. The seat itself is easy to remove and install in the car, but it's also designed to make it easy to take your baby in and out of the seat as it rotates to face the car door.
Until you've used this type of seat, it's difficult to convey just how handy this feature is – it really makes light work of taking your baby anywhere in the car. The swivel base also makes this seat a good choice for anyone with a back problem or other injuries that can make taking a baby in and out of the car seat tricky.
Installing a car seat can be a challenge but this one is a good choice for extra peace of mind. The support leg, which attaches the base to the car, has lights that indicate when everything is correctly installed. There's also an alarm that sounds if the base is incorrectly secured.
The seat also has a removable newborn inlay for added comfort, and the height-adjustable headrest has 11 different settings so you can customise it as your baby grows. Outside the car, your baby can lie flat in this seat thanks to the recline feature. It's also compatible with selected pushchairs to create a travel system.
Tested by: Hanna Cesek, mum to Noa, six months
'It was very hard to find anything wrong with the Cybex Cloud Z car seat,' says Hanna. 'It looks great, it's easy to use and – the piece de resistance – it has a swivel base! I think that alone makes it well worth the price. Why wouldn't you choose a baby car seat with a swivel base if you can afford it?! After all, you take your baby in and out of their car seat every day for at least a year. And this base can be used with Cybex's next seat up, so it could last your child right up until they're four years old. Apart from it being heavy to lift and carry, I pretty much love everything about this seat.'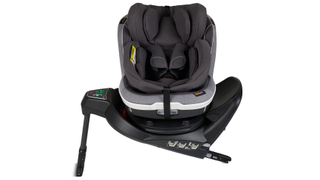 2. Be Safe iZi Twist B-E iSize
Best premium car seat - a rotating seat that keeps your child rear-facing up to age four
Specifications
Weighs: 15kg
Age range: Six months-four years
Reasons to buy
+
Rotates for easy access to your child
+
Easy to install, with safety indicators
+
Extra support for newborn babies
Reasons to avoid
-
Expensive
-
Heavy to lift in/out of the car
-
Takes up lots of space
We say: This i-Size car seat is an extended rear-facing seat. That means your child can travel in the safest position – facing towards the back of the car rather than facing the direction of travel – all the way up until the age of four. It also rotates, making it extra easy to get your baby in and out of the car. We also love the electronic indicators which ensure you've installed the seat safely in your car.
This seat has passed the world's toughest crash test and has three layers of safety features, including built-in side impact protection in the seat shell. It has four recline positions and the adjustable headrest has 11 different settings. To provide extra support for newborns, it comes with a baby shell and a head hugger.
Tested by: Jenny Meechan, mum to Orlaith, aged six months.
'This was so easy to install – the light indicator completely eliminates any guesswork as to whether you've secured the seat properly, offering real peace of mind,' she says. 'The straps are straightforward to tighten and loosen – they glide really effortlessly between positions and don't dig into the baby's shoulders. It's quite heavy to carry though – I managed to carry it alone but felt I'd bitten off more than I could chew! It also takes up quite a lot of space in the car – I have a medium-sized family car and had to push the front seat quite far forward to create enough space to install this seat.'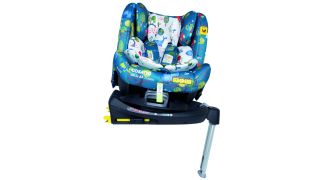 3. Cosatto All In All Rotate Child Car Seat
Best budget car seat - a rotating combination seat from birth to 12 years
Specifications
Weighs: 10.9kg
Age range: Birth-36kg
Reasons to buy
+
Impressively versatile
+
Excellent value for money
+
Rear-facing until age four
Reasons to avoid
-
It's bulky
-
Can be attached to a pushchair frame
We say: Designed by Paloma Faith, this striking car seat covers all the car seat groups (0+123), meaning it's suitable from birth right the way up until your child weighs 36kg, which is around 12 years old. (Yep, we said 12 years old.)
It's another rotating seat, so it's easy to get little ones – and not so little ones, as they get older – in and out. You can use it rearward-facing until your child weighs 18kg (around four years old) and then turn it around and use it as a forward-facing seat until your child is old enough - or tall enough - to use the vehicle seat belt instead.
You can secure it