Aldi's bargain swimming pool is back and it's all you need to get through this heatwave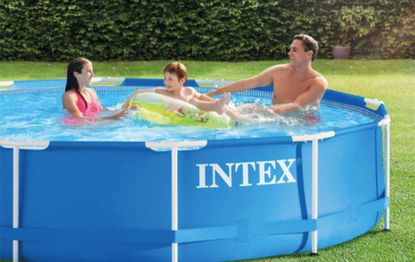 With UK temperatures soaring to up to 37 degrees, it's not the best time for the summer holidays to hit.
It's hard enough coming up with ideas to entertain the kids for six weeks every summer without having to take into consideration blistering heat.
Current weather conditions mean that playing in the park for more than an hour is ruled out and there's only so many times you can take them to the cinema (although it is a great opportunity to take advantage of the air conditioning).
So we may have just found the saviour to your summer.
Always coming through for us on the killer deals front, bargain superstore Aldi has done it again.
No longer will you have to book a flight to the Mediterranean or dust off your leisure centre membership to cool off in the pool, because Aldi are bringing the water to you (well, your back garden).
They're selling a swimming pool that you can put up in your garden, and at a bargain £89.99 compared to other similar models on the market, it really is a still. Much cheaper than a flight to Spain, too.
And the best part is, it's not just a little inflatable paddling pool that doesn't come past your calf. The Intex 12 foot Metal Swimming Pool is deep enough to submerge your whole body in when you take a dip. You could probably even get in a couple of laps!
It comes with cleaning accessories, such as a filter pump that keeps the water clean, surface skimmer to clear away any debris and a pool chemical dispenser. It also includes a cover for when the inevitable British clouds come back out and it even has a thermometer so that you can get the water to your ideal temperature.
The bad news is that it's already sold out online, but the Aldi gods are coming to the rescue by releasing it in store tomorrow (Sunday 29th July).
It is a famous Aldi Specialbuy offer though so you'll have to be quick if you want to nab one!
Aleesha Badkar is a lifestyle writer who specialises in health, beauty - and the royals. After completing her MA in Magazine Journalism at the City, the University of London in 2017, she interned at Women's Health, Stylist, and Harper's Bazaar, creating features and news pieces on health, beauty, and fitness, wellbeing, and food. She loves to practice what she preaches in her everyday life with copious amounts of herbal tea, Pilates, and hyaluronic acid.