'This was a miracle worker' Fans praise Amy Childs for 'life saver' cradle cap trick
The new mum shared her tip on social media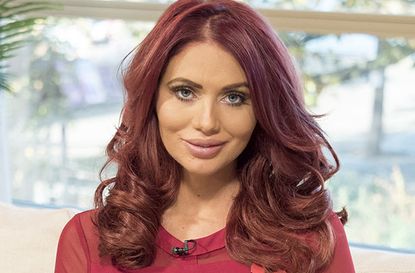 New mum Amy Childs has been praised by fans for sharing a baby trick that helped her get rid of her baby's cradle cap.
Amy took to Instagram to share with fans that she used olive oil to get rid of her daughter's Polly cradle cap (opens in new tab) - the greasy, yellow scaly patches that can appear on the scalps of young babies.
'Ok so girls!! Have to share this with you all... So polly has had very bad cradle cap, as a new mum I started worrying as it started to look very scabby I no that this is very common in babies, I went on every website and ask new mummies out there !!', Amy wrote on Instagram.
The mum described how she tried a few things before using olive oil, which only took a few minutes to work.
'I seriously tried everything, it said try coconut oil, another story said Just leave it and it will just go !!! I then CAME across an article that said about olive oil! I was like surely this isn't going to work, So girls I literally got a "Tommie tippee" comb and combed through olive oil onto her scalp and left it for half hour , (very greasy) poor polly 😂'
'After half hour I could see it all flake off and then kept on combing it out , it literally took 10 mins to do and now there is no sign of cradle cap!! So new mummies out there , it bloody works 🙋🏼 Happy baby happy mummy 💗 '
Fans of the reality TV star took to the comments section to thank her for the tip, with some saying they tried it on their babies and it also worked.
One wrote: 'I'm so grateful that I saw this. I've tried different creams from the doctor which haven't worked. Then I used the oil yesterday after reading your post and it's worked amazing. Thank you.'
Another said: 'Just tried this with my baby girl and can't believe how well it has worked I'm amazed x', while a third wrote: 'Thanks so much for the tip on here I done this on my baby today she was born same day as polly and has had cradle cap. I don't like using anything that isn't natural and this was a miracle worker.'
According to the NHS, cradle cap is very common in babies, and usually doesn't cause any discomfort. It tends to clear up without treatment within weeks to a few months, but some treatments could help get rid of the scales quicker, like soaking the crusts with baby oil, olive oil or white petroleum jelly overnight, and washing the baby's hair with shampoo in the morning.
Have you ever tried using olive oil on your baby's cradle cap and did it work? Let us know in the comments!