'I touched myself in labour' Why this mum is advocating masturbation for pain relief
'Birth and sex operate in almost the exact same ways.'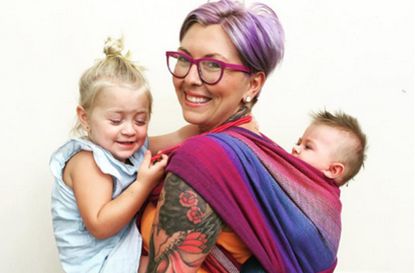 For most women, pain relief during labour comes in just a few forms - an epidural, for instance, or gas and air.
Birth photographer and blogger Angela Gallo-Peters, however, found a rather more unusual method while in labour with her second child - masturbation.
In a blog post entitled 'Why I touched myself during labour - here's 3 reasons you should consider it, too!', she explains, 'Birth and sex operate in almost the exact same ways. The hormones, sensations, the anatomy involved, brain activity, receptors... they are all so heavily intertwined.'
'And yet it still boggles people's minds when I let them in on my (not-so dirty) little secret.'
She states that masturbation has three fold benefits - pain relief, pleasure, and the 'Oxytocin, baby. With a side of Endorphin and Adrenaline.'
All images: Instagram/angelawombwarrior
The 30-year-old mum of two told Daily Mail Australia that after a highly medicated birth with her first child, where she underwent an epidural that 'left her feeling out of control of her body', she wanted a different experience for the arrival of her second.
'Something I'm particularly passionate about is choices in childbirth,' she said. 'It's not a sexual urge whatsoever. It's my body saying "hey, natural pain relief is where it's at". It's about exploring your options and exploring your choices in childbirth and taking ownership of your experience on a physical and emotional level.'
In her blog post, she continued, 'My second baby's birth was remarkably more empowering then then my first. Firstly, I labored in the comfort of our home, with the people I love most. Secondly, because of the privacy, support, and love I felt wrapped in, my surges felt COMPLETELY different.'
'Clitoral stimulation worked an absolute TREAT. It shifted my focus to my vagina, to the energy brewing within me. It made me feel connected, and made me feel like I had some control over what I was feeling.'
Angela admits that the idea of masturbating during childbirth takes many people out of their comfort zones, but she hopes that by sharing her story, she'll help take the stigma away from the concept.
'I am so proud of myself for exploring an avenue so typically shamed,' she says.
Did you try any unusual methods for pain relief during your labour? And would you ever give Angela's suggestion a go? Leave us a comment below and let us know your thoughts!
Trusted, informative, and empathetic – GoodTo is the ultimate online destination for mums. Established in 2007, our 15-year-strong archive of content includes more than 18,000 articles, 1,500 how-to videos, and 7,000 recipes.