'I don't feel guilty about sharenting' Vlogging superstar Anna Saccone Joly on why she's fine with filming her kids
Though the mum-of-three admits that there's 'a line she wouldn't cross'...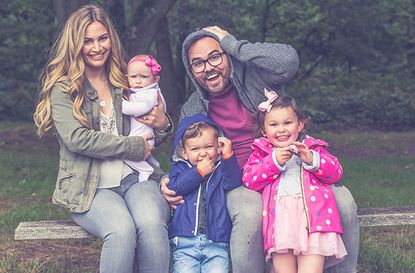 Irish vlogging superstars Anna and Jonathan Saccone Joly
post video blogs of themselves and their three kids, Amelia, 5, three-year-old Eduardo and baby Alessia, every day.
But what goes on in the day of the Saccone Jolys doesn't stay with the Saccone Jolys. Oh no, it's shared with their 1.8million YouTube subscribers.
It's normal for Anna and her husband, Jonathan to get up to 3 million viewers watching their daily blog.
The videos don't tend to be more than 20 minutes long and can be anything to Alessia's first time on a swing to a game of family hide and seek - and forget about any high-end camera work or Kardashian-like filming, it's all done with an outstretched arm or tripod.
'I think because we've always filmed so casually, it's not a massive deal for us or the kids - it's not like there's a crew - it's just mum and dad with the camera, a natural part of our lives,' says mum-of-three Anna.
The 30-year-old explains her favourite thing about vlogging is that they, as a family, can look back on things that they vaguely remember, and see them from a different perspective.
'Life goes by so fast. It's so nice to look back on that. I came across old photos on my laptop that I never posted,' she says. 'They were outfit pictures that I never posted from when I was pregnant.'
'I remember feeling massive, but when I look at them now I couldn't see what the problem was, I looked good.'
The vlog started not long after the couple met, eight years ago and has grown with them, from their first flat to each new Maltese dog they got - they now have six - and even to the birth of their first child, Amelia.
'We started daily,' Anna explains. 'But we have missed a few days recently, what with having baby Alessia, but people get upset if we don't do it daily.'
http://www.youtube.com/watch?v=JMV5kvTg4vo
'Amelia adores watching her baby videos. I think because she's five she has a better understanding now.
'She loves seeing herself as a baby and how's she's grown up, how she's learned new things - she marvels at it.'
Though along with this feel-good, nostalgic angle of vlogging comes the darker side. Dubbed 'sharenting', some have expressed concerns that many parents are oversharing every aspect of their child's life on social media.
'Oh god,' laughs Anna, 'I never feel guilty about sharenting. I think there's too much controversy around it.
'I think people are more scared of what they don't know.'
She goes on to explain that the children who have grown up with parents on social media, sharing photos and videos haven't grown up yet: 'So, I think it's a fear of the unknown.
'People don't know how these kids are going to react and cope - no one knows. We're all just kind of winging it.'
'I think every generation has something that they're afraid of because it's new and it's just something people learn to cope with. And for our generation that's social media.'
The busy mum goes on to say that sharenting also has its plus points, as it helps other parents out there to see they're not alone.
'The whole "a problem shared is a problem halved" definitely rings true with parenting, it can be really lonely sometimes. So it's good to share.'
Though, she's quick to confirm that she does have a line.
'There's definitely a line I wouldn't cross. I wouldn't show [my kids] potty training or throwing tantrums, I know they happen and that it's "real life" but I don't want to put that negativity out about my children.'
'At the end of the day, they're not stage children and I don't want them to be. And there have been times already where they've said no to filming.'
Anna goes on to explain how recently five-year old Amelia asked daddy to stop filming her as she's learning to read and is a bit self conscious when she stumbles over the words - and it was fine, the camera was switched off.
'When the time comes that the children refuse to be filmed Jonathan and I will respect that - they didn't choose this, we did. We try to make it about us as people not just about our kids.
'We're not here breeding child stars here, that's not our goal.'
The SACCONEJOLYs and the Great Cat-Nap (Egmont, £6.99) is available in all good bookshops and online.
Trusted, informative, and empathetic – GoodTo is the ultimate online destination for mums. Established in 2007, our 15-year-strong archive of content includes more than 18,000 articles, 1,500 how-to videos, and 7,000 recipes.