The most cosy-sounding baby names for autumn
The leaves are falling, and the baby names are calling...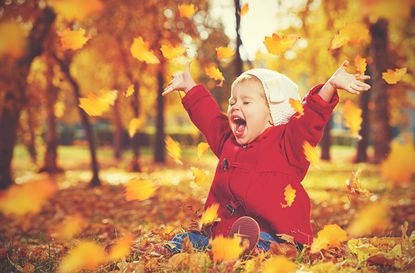 (Image credit: Getty Images/iStockphoto)
Believe it or not, autumn boasts a range of gorgeous baby names for girls and boys alike!
As the leaves start falling and you make your preparation for the winter months ahead, have a look at our top list if you're after something seasonal to name your little one.
Girls autumn baby names
Aurelia
Aurelia means 'golden', and has been popular since the Roman Empire.
Bramble
Yes, like a blackberry bush - or the gin cocktail!
Hazel
A steady favourite, but this one definitely screams 'autumn'. It calls to mind the gathering of hazelnuts to store over winter, which is what humans did before we had supermarkets.
Amber
Again, golden and orangey colours always remind you of autumn!
Scarlett
Reddish-brown for this timeless favourite.
Persephone
The famous wife of Hades, and the goddess of vegetation, who started the whole season thing in the first place.
Jora
This means 'autumn rain' in Hebrew - and could work as a shout-out to your favourite Game of Thrones guy!
Rhea
This lovely name means 'a flowing stream', tying in with the autumnal woodland theme.
October
If you're brave enough, October is easily the most autumnal month, what with Halloween and everything.
Laurel
A nice twist on the name Laura, and is also a beautiful tree.
Boys autumn baby names
Wheatley
Like the harvesting of golden wheat.
Asher
Like Ash trees.
Rusty
Again with the warm, reddish hues.
Forrest
For a baby you just know is going to be an adventurer.
Ash
Bonfires, Guy Fawkes, evenings curled in front of the fireplace...
Lennox
This Scottish name is linked to the elm tree, which loses its leaves in the fall.
Cormac
The Irish boys' name meaning 'tree trunk' and 'charioteer' is popular in Celtic mythology, and sounds rather autumnal.
Aki
This literally means 'autumn' in Japanese. What more could you want?
Griffin
This means 'prince', but we think it sounds like a mythical fiery autumnal animal.
Jack
Like Jack-o-lantern... get it?
Oakley
Autumn is for sure the spotlight season for trees.