Blue Whale Challenge: What parents need to know about the dangerous blue whale game that's sweeping schools
This is truly horrifying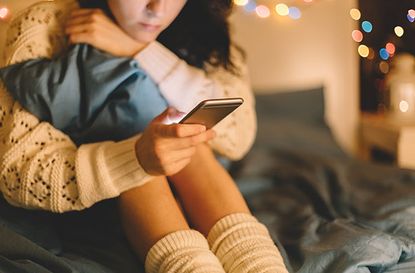 Have you heard of the Blue Whale Challenge? If your answer is no, it doesn't mean that your children won't have.
The online challenge, also known as the blue whale game, is built on a harmful relationship between those who refer to themselves as 'administrators' or 'masters', and participants, who are given a series of 50 tasks to complete.
Some of these assignments may initially seem innocent - watching a scary film, or waking up in the early hours of the morning - but the instructions soon become more sinister, encouraging acts like self-harm in the shape of a whale on the skin, until players are eventually commanded to commit suicide.
The Blue Whale Challenge originated on Russian social media, with some sources stating that the phenomenon goes back as far as 2013.
However, there are more and more news reports suggesting that it's becoming a global issue, with a father from Ireland issuing a heartbreaking warning after allegedly losing his son to the game.
'Parents nowadays do not realise how much their children are into the world of virtual reality where, to them, everything is reality,' Greg Wilmot told the Irish Mirror following the death of his son Conor.
'They find it hard to discern between the two and I don't see how we are going to tackle this as a major problem. Any nutcase can post terrible things on social media.'
More and more organisations are becoming aware of the game, and implementing measures to stop the spread of the trend. For instance, when you search for the hashtags #bluewhalechallenge and #bluewhalegame on Instagram, a warning message pops up explaining that the terms 'often encourage behaviour that can cause harm and even death' - although this can still be overridden with the click of a button.
Some schools have sent warning letters to raise awareness of the game. David Wright, deputy headteacher of Woodland's School in Essex, wrote to parents after being informed about the challenge by local police.
'We have a duty of care for our pupils and are striving to do all we can to ensure that you are given the latest information to help safeguard our young people,' he said.
Several police forces have also released statements on the matter, with Hertfordshire Constabulary advising those with children of all ages 'to be vigilant and monitor children's internet usage'.
A spokesperson for the NSPCC said to the Express: 'Children can find it difficult to stand up to peer pressure but they must know it's perfectly okay to refuse to take part in crazes that make them feel unsafe or scared.
'Parents should talk with their children and emphasise that they can make their own choices and discuss ways of how to say no.
'Reassuring a child that they can still be accepted even if they don't go along with the crowd will help stop them doing something that could hurt them or make them uncomfortable.'
If you are worried about the Blue Whale Challenge or any element of social media that may be affecting your child, help is available from a number of services including Childline, Samaritans, and YoungMinds.
Trusted, informative, and empathetic – GoodTo is the ultimate online destination for mums. Established in 2007, our 15-year-strong archive of content includes more than 18,000 articles, 1,500 how-to videos, and 7,000 recipes.