Could breast milk lotion be the answer to nappy rash and eczema?
It's the latest craze amongst the mums of Instagram...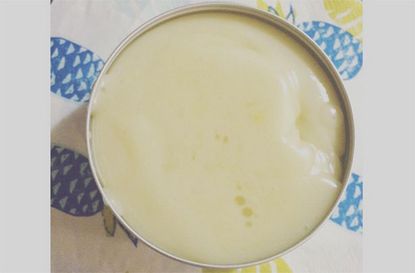 A new skincare craze has taken over Instagram, featuring one very unusual ingredient - breast milk.
Pictures of the homemade lotion have been shared by hundreds of mums from around the world, revealing both their 'liquid gold' recipes and the conditions that it's been tackling.
Nutritionally, breast milk is full of beneficial elements: proteins, essential fatty acids, calcium, and plenty of vitamins and minerals. In the early days after labour, it also contains high levels of colostrum, which is high in carbohydrates, protein, and antibodies to help keep your baby healthy.
However, the concept of using it topically or in skincare was relatively unheard of until fairly recently.
In 2013, Kim Kardashian and her sister Kourtney hit the headlines after the former applied her sister's breast milk to a patch of psoriasis on her leg, having read that the natural substance was a homeopathic remedy for the condition.
However, The National Psoriasis Foundation states that 'Though colostrum — an antibody-packed form of breast milk that comes in right after delivery — has shown some skin-healing properties', doctors don't generally recommend it as a psoriasis treatment.
Although it's unlikely to become a prescribed medication, homemade breast milk lotion does contain plenty of skin-soothing properties. Recipes tend to comprise of entirely natural ingredients, including Vitamin E, grapeseed oil, shea butter and beeswax, all of which are recognised as beneficial for the skin.
The thicker oils are melted in the microwave, and then the breast milk and a few drops of Vitamin E oil are whisked in until the mixture begins to thicken. Eventually, mums are left with a balm-like consistency, which many of them swear by for eczema, nappy rash, dry skin and even sunburn.
When cooled and stored properly, breast milk lotion can last in the fridge for up to three months.
In certain countries, some entrepreneurial mums have created companies that will manufacture the lotion on the mother's behalf, giving them a personalised lotion that's totally tailored to the needs of their baby.
Lulabelle, a business based in Singapore, can transform a new mum's breast milk into soap, lotion and ointment, whilst one mother in China began selling soaps made from her own milk when she couldn't breastfeed her son.
[apester]5785ff9333e3688a29931a58[/apester]
Trusted, informative, and empathetic – GoodTo is the ultimate online destination for mums. Established in 2007, our 15-year-strong archive of content includes more than 18,000 articles, 1,500 how-to videos, and 7,000 recipes.