Best hair accessories for girls 2022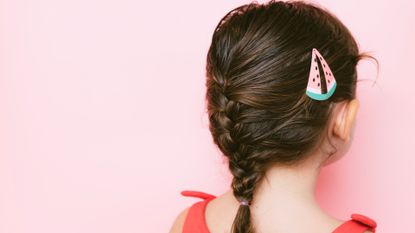 (Image credit: Westend61 / Getty)
Great deals on the best hair accessories for girls that actually keep your little one's hair in place and look pretty cute, too!
Whether your little one has long, mid-length or short hair, it's easy to create some fun styles by using the best hair accessories for girls.
From hairbands to bows and coloured extensions, keep your little one's hair neat and tidy, while still showing some personality. There's nothing more bothersome than having your hair in your eyes so if your child has a fringe that needs cutting, a couple of cute clips or a stylish headband will help sweep it off the face.
If you're after a rainy day make with your little girl, you could sit down together and learn how to make hair scrunchies. If sewing's not really your thing, there are plenty of options online and on the high street to whip long hair into a cool style.
Pre-schoolers will look adorable with a side-swept parting held down with a pretty bow slide, whilst older, more adventurous girls might like to try clip-in coloured extensions. They're a zero faff, no-commitment version of the latest colour craze, tissue paper hair dye.
'I have a pre-schooler who adores hair accessories,' says Beauty Editor, Stephanie Maylor. 'But I've learned that not all hair clips are created equal. For example, anything on a slide slips around in her fine hair, and although there are some amazingly cute snap clip designs, her hair just seems to get caught up in the metal, so these are definitely better geared towards older girls, perhaps with thicker, coarser hair.'
Whatever your child's hair texture, length or personal preference, the best hair accessories for girls don't need to cost lots. To help get the most for your money, we had a look at the best hair accessories for girls and came up with this edit...
Top tips for choosing the best hair accessories
Why you can trust GoodTo Our expert reviewers spend hours testing and comparing products and services so you can choose the best for you. Find out more about how we test.
Natasha Hodson, Creative Director & Founder of Mimi & Lula, shares her expertise in picking the right clip, grip or hairband for your little one's hair type.
Long, thick hair needs a super strong clip! Our kirby grips have a really strong hold and are even more effective when used together. We also find a large salon clip or a couple of clic clacs (aka snap clips) do the trick.
Fine, flyaway hair usually needs something small but mighty with a good grip, such as our Martha bow salon clips or a sturdy clic clac-style clip.
When it comes to curly hair, we find an Alice band is a perfect quick fix. A bulldog clip is also great for a part-up, part-down style.
The best hair accessories for girls 2022:
1. Mimi & Lula Leopard Coco Bow Alice Band
One of the kids' accessory brand's bestsellers, this cool and stylish headband is sure to make little ones stand out from the crowd. Made in the prettiest leopard print fabric with a leather wrap at the centre, the wire inside the bow means kids can adjust the bow to stand up like bunny ears or wear them flat to your head depending on their mood! Perfect to fit ages 3-10 years.
VIEW AT MIMI & LULA | £8 (opens in new tab)
2. H&M Butterfly Hair Clips
These hair clips are made from metal with glittery-print, butterfly fabric appliqués. At only 3-5cm long and weighing just 15g they are perfect for fine hair but strong enough to stay put. With over 320 customer reviews averaging at 4.9/5 - they're a real customer favourite.
VIEW AT H&M | £2.99 (opens in new tab)
3. M&S Kids' Star Hair Multipack
Perfect for party season, this pretty, pink set features an Alice band with multi-coloured glitter and sequin star detailing and is matched with a three pack of unicorn, rainbow and shooting star fabric clips.
VIEW AT M&S | £11 (opens in new tab)
4. Boden Large Bow Scrunchie
Add a pop of colour to any outfit with this stripy scrunchie with this wow-factor bow. Available in either multi stripe or multi leopard patterns in 100% supersoft cotton, it matches other items in the range and is machine washable to keep it looking its best.
VIEW AT BODEN | £9 (opens in new tab)
5. Rockahula T-Rex Glitter Clips
Suitable from ages three and up, look totally roarsome with these two glittery dinosaur snap clips on grosgrain ribbon. Suitable from ages three and up, there're the coolest way to keep flyaways in place.
VIEW AT LIBERTY | £6.95 (opens in new tab)
6. Monsoon Glitter Bow Hair Clips
Little girls love bows and we can't get enough of these glittery designs. They're really easy to put into the hair and are the perfect addition for any special occasion when you might need your little one to look a little more put together. You get 6 for £6 and they're really easy to 'click' into the hair, keeping fringes or shorter layers out of their face. If your child has Rapunzel-length locks, these glittery clips look amazing dotted through a French plait, too.
VIEW AT MONSOON | £6 (opens in new tab)
7. Accessorize Unicorn Faux Ombre Hair Clips
Little ones will love flipping their new ombre hair at the party with these hair clips complete with secure and sparkly unicorn clips. The 30cm of long ombre faux hair blends beautifully when secured.
VIEW AT ACCESSORIZE | £5 (opens in new tab)
8. JoJo Maman Bébé Birthday Crown Hair Band
Coordinating perfectly with plenty of the kids' store's party outfits, give your little one the royal treatment on their birthday with this adorable crown in a classic floral print. Gentle on delicate hair, the Alice band is the ideal way to help the crown comfortably stay in place all day.
VIEW AT JOJO MAMAN BÉB (opens in new tab)É (opens in new tab) | £10 (opens in new tab)
9. Trotters Lily Rose Pretty Bow Alice Band
This simply chic, grosgrain-wrapped Alice band features a small pretty bow on the side. The perfect accessory to any wardrobe - one colour simply isn't enough. There are a vast array of shades from juicy shocking pink, to muted vanilla, sunny lemon and this vibrant red.
10. Marlowe Bear Set Of Two Liberty London Hair Bow Clips
These bright and beautiful bows are the perfect timeless hair accessory and available in 50 classic Liberty prints. Available in sets of two, each bow is attached to a crocodile clip which is comfortable and secure once in hair.
VIEW AT NOT ON THE HIGH STREET | £9.50 (opens in new tab)
11. Accessorize faux hair butterfly salon clip
This enchanting, rainbow hair clip ringlet is a magical finishing touch to any dress-up look. Simply secure the butterfly-shaped clip in their hair and watch the 27cm magic hair unfold. Rapunzel would be jealous!
VIEW AT ACCESSORIZE | £5 (opens in new tab)
12. Claire's Mini Tropical Flower Crown
Add a boho edge to your look with this crown featuring an assortment of pink, lilac, and white, faux flowers on a stretch-fit elastic band.
VIEW AT CLAIRE'S | £7.20 (opens in new tab)
13. The White Company Pom-Pom Hair Clips
Always first for quality, these White Company ribbon-wrapped snap clips are finished with pom-poms and are a lovely way to keep flyaways and wispy hair tamed from the age of three years.
VIEW AT THE WHITE COMPANY | £8 (opens in new tab)
The best hair accessories for girls 2022:
A quick recap - we scoured the digital shelves for the very best hair accessories for kids of all ages:
Mimi & Lula Leopard coco bow alice band - MIMI & LULA | £8 (opens in new tab) H&M 4-pack butterfly hair clips - H&M | £2.99 (opens in new tab) M&S Kids' Star Hair Multipack - M&S | £11 (opens in new tab) Boden Large Bow Scrunchie - BODEN | £9 (opens in new tab) Rockahula T-Rex Glitter Clips - LIBERTY | £6.95 (opens in new tab) Monsoon Glitter Bow Hair Clips - MONSOON | £6 (opens in new tab) Accessorize unicorn faux ombre hair clips - ACCESSORIZE | £5 (opens in new tab) JoJo Maman Bébé Birthday Crown Hair Band - JOJO MAMAN BÉB (opens in new tab)É (opens in new tab) | £10 (opens in new tab) Trotters Lily Rose Pretty Bow Alice Band - TROTTERS | £10 Marlowe Bear Liberty London Hair Bow Clips - NOT ON THE HIGH STREET | £9.50 (opens in new tab) Accessorize faux hair butterfly salon clip - ACCESSORIZE | £5 (opens in new tab) Claire's Mini Tropical Flower Crown - CLAIRE'S | £7.20 (opens in new tab) The White Company Pom-Pom Hair Clips - THE WHITE COMPANY | £8 (opens in new tab)
Emma North is a Senior Beauty Writer who works for digital titles including woman&home, Woman, Woman's Weekly, Woman's Own, Chat and GoodtoKnow. Emma's career in beauty journalism began with internships at publications including Vogue, Elle, The Telegraph and Glamour while she undertook a degree in journalism. She was then taken under the wing of Funmi Fetto, Contributing Beauty Editor at Vogue where Emma assisted with Funmi's debut beauty book, Palette