Top tips for cutting your child's fringe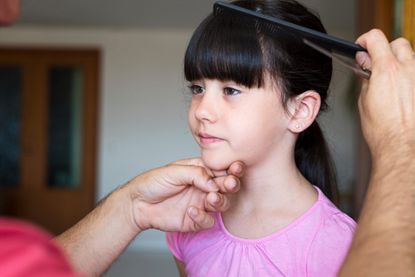 With hairdressers shut for the foreseeable future and hair slowly creeping into the eyes of our little ones, it's no surprise many of us are considering taking the matter of a fringe trim into our own hands.
If this is your first foray into the world of cutting – don't worry. We've enlisted the help of Zoe Irwin, Creative Director at John Frieda to give us some top tips for cutting your child's fringe at home.
1. Invest in scissors
"One of the first mistakes people make is not using proper scissors, so order yourself some hairdressing scissors online, Zoe told us. "Go for small ones as larger ones can lead to bad results! I recommend fishing out a narrow comb too to separate out small sections at a time."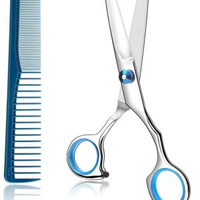 Coolala Stainless Steel Hair Cutting Scissors - £7.99 | Amazon
We'd recommend these top-rated professional salon haircut scissors. Made of Japanese stainless steel, the sharp blades make your hairdressing easily - and the come with a free bonus comb, which is perfect for fringe cutting.

2. Leave hair dry
"When cutting your child's fringe or the rest of their hair, do it when it's dry, not wet. This will stop you from taking it too short." says Zoe.
3. Don't cut straight across
"Visually measure how much you want to take off, lift the hair and cut with the scissors at an angle, instead of straight across", says Zoe. "Snipping into the hair in little 'V' shaped sections (so it's not all the same length) will help you get a softer finish. We call this technique point cutting. The middle should be slightly shorter than the sides, so start there.'"
4. Don't cut too much
Remember the tiniest bit makes a massive difference. Zoe told us, "In salon, we cut in mm not cm taking off tiny bits at a time. You should do the same."
5. Leave the sides longer
Always leave the sides of the fringe longer for a softer finish.
6. Blow-dry the rest of the hair
"Once you have cut the fringe, blow dry it into the rest of their hair so you can see the results", says Zoe. "You might want to make the middle section wider, but I do really recommend leaving the sides long". For more fun inspiration, see our pick of the best hair accessories for girls, or boys!
Still not sure about cutting your child's fringe? You might find this video tutorial helpful.
https://www.youtube.com/watch?v=qoT1jEHJllk
Parenting advice, hot topics, best buys and family finance tips delivered straight to your inbox.
Jess Beech is our Beauty Editor, working across Goodto.com, Woman & Home, Woman, Woman's Own, Woman's Weekly and Chat. Joining just after she graduated from the University of East Anglia with a BA in English Literature back in 2013, Jess has been a part of the team for over 8 years. Over that time she's tried her hand at most subjects – covering diet, health, cookery and even a stint on real life crime before settling on beauty and fashion a couple of years ago. Her average day in the office is spent tracking down high-street copies for all your favourite celebrity looks or testing the latest beauty launches to see if they really do live up to the press release. Although she writes across a wide range of topics, when it comes to beauty it's always a new hair product that catches her eye first. Whether it's a new frizz-fighting shampoo or a game-changing gadget, she's first in line to try anything that might help tame her own unruly mane. When Jess isn't at work you're likely to find her busily making plans for her next holiday, trying out yet more beauty products or (reluctantly) heading to the gym. Oh and she's a sucker for reality TV too – just don't call her when Love Island is on.