Sir Chris Hoy and wife Sarra welcome their second child
The cycling champion announced the lovely news on social media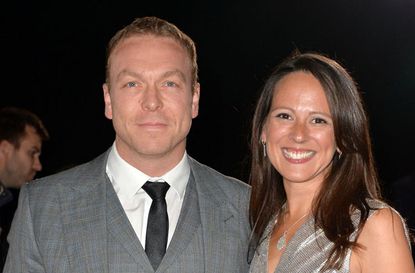 Cycling champion Sir Chris Hoy has revealed on social media that his wife Sarra has given birth to their second child.
Chris, who's a six-time Olympic Champion, announced the lovely baby news on Instagram, with a picture of his newborn.
Revealing that the couple welcomed a baby girl, who they named Chloe Rose Carol Hoy, Chris added that mum and baby are doing well.
'Delighted to announce the safe arrival of Chloe Rose Carol Hoy this week! Born at 36 weeks, 4lbs 14oz, @SarraHoy and Chloe doing really well x', the dad said on Instagram.
Fans of the cyclist rushed to congratulate him and his wife on their new baby, writing in the comments section to send their well-wishes.
One wrote: 'Congratulations and love the picture - she has this sweet and peaceful look only baby can have', while another said 'Congratulations she's gorgeous and the name is beautiful ❤️.'
Mum Sarra also took to Twitter to thank medical staff for taking care of her, saying: 'We owe a huge debt of thanks to our local hospital & amazing staff, who gave me the most incredible care, while our family of 3 became 4.'
Chloe is the couple's second child. When they welcomed their son, Callum, in 2014, the pair went through a difficult time as he was born 11 weeks early, weighing just 2lbs 2oz.
Speaking on Lorraine when she announced she was pregnant again, Sarra said their first experience made them a bit more anxious but they were still very excited.
'Hopefully it's something that other people can take comfort from. I would never have thought I would have ventured down that road again but actually time is a great healer and we're so excited about it,' she said.
'The point is, prematurity or having a sick baby, it's unexpected for most people. So that's the shock of it. It might not happen again, but we'll see.'
The mum-of-two also praised Chris for his parenting skills, continuing: 'He's just such a lovely, lovely dad to Callum, and he adores him. And I think he's now, knowing how wonderful it is with Callum now, he's super excited about this next one.'