'I've worked hard to earn it' Mum blogger Constance Hall hits back at pressure of losing baby weight
Constance Hall is in no rush to slim down after giving birth to her fourth child last week.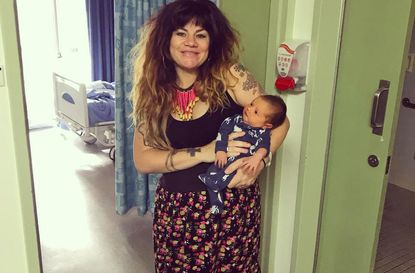 Constance Hall is in no rush to slim down after giving birth to her fifth child last week.
The Australian blogger celebrated her postpartum body on Instagram, sharing a snap of herself cradling her newborn son, Raja, while showing off her rounded tummy.
Admitting she worked hard for her 'mum rig', as she calls her belly, Constance admitted she is 'proud' to show it off after it kept her beautiful son safe for nine months.
She said: 'This is my rig. For the last 9 months it's housed the worlds best baby. It's also been the subject of many photos and shown off in tight dresses and midriffs.
'The beautiful rig that stretched to its full capacity and then stretched some more, the skin, fat, muscles and organs that kept me and my baby safe, fed, warm and alive.
'This is the rig that my baby falls asleep on and my husband kisses.'
Shutting down any naysayers, she added: 'The thing is that when the baby comes out comments change from "beautiful belly!!" To "don't worry you'll lose that".
'But I f***ing love this rig. I've worked hard to earn it and I'm proud of it, I'm proud of anything that brought this beautiful baby into the world.'
https://www.facebook.com/mrsconstancehall/photos/a.1020217474689744.1073741828.1019711431407015/1922536064457876/?type=3&theater
The 35-year-old gave birth to baby Raja last month via a scheduled C-section. The baby is her fifth child but is the couple's seventh, as her partner is already a dad to two kids.
Sharing a snap of her breastfeeding the tot in her hospital bed, she said: 'Raja. Born at 2.46pm 38 weeks 4.2kgs. We couldn't have dreamt a more perfect baby.'
Her husband Denim Cooke, posted a sweet message on Facebook, praising his wife for her 'strength and bravery' during the pregnancy.
He said: 'Raja Wolf Cooke-Hall was born today at 2.46pm. At 9lb 5oz and 56cm tall he is perfect in every way.
https://www.facebook.com/1831732397094155/photos/a.1842821749318553.1073741829.1831732397094155/2035289686738424/?type=3&theater
'Con is sitting up in bed breastfeeding him at the moment and I couldn't be prouder of her strength and bravery and throughout this entire pregnancy.
'Raja is absolutely adorable and feeding already and about to nap. He has barely cried and seems really content. Fingers crossed he remains chill.
'Thank you for all the well wishes and thank you to my beautiful wife for this amazing gift ... you are a warrior woman and this child unites our crazy clan.
'I feel so lucky I could jump over the moon. Oceanz [sic] of love to you all.'
A Freelance Writer and Content Editor, Jenni has been working on the women's lifestyle team at TI-Media on and off for over three years. She writes about your favourite celebrities and TV shows so you never miss an update. Jenni also writes beauty news and features - so for all of your skincare and make-up needs, drop her a line.