Mum-of-four slammed for 'distasteful' pregnancy announcement
'We are not ready for this and I am petrified'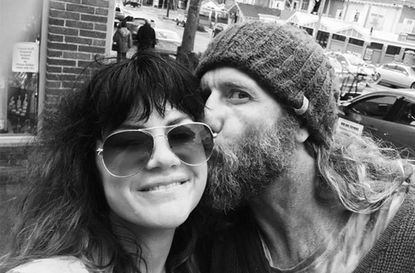 GoodTo newsletter
Sign up to the GoodTo Newsletter. You can unsubscribe at any time. For more information about how to do this, and how we hold your data, please see our privacy policy
Thank you for signing up to . You will receive a verification email shortly.
There was a problem. Please refresh the page and try again.
Mum-of-four Constance Hall (opens in new tab) came under attack after announcing her 'unexpected' pregnancy on Facebook.
The Australian mum blogger revealed that her baby announcement took a turn for the worse after she came under attack online.
The 32-year-old announced she was pregnant with her first child with fiancé, Denim Cooke, who she met earlier this year.
This will be baby number seven for the couple, as Constance has four children from her previous relationship and her partner is already a dad to two kids.
The outspoken blogger shocked fans when she shared details about her initial intentions of getting an abortion.
Taking to her Facebook page, Constance explained how the 'commune' was welcoming another baby, due sometime in June.
[facebook] https://www.facebook.com/mrsconstancehall/photos/a.1020217474689744.1073741828.1019711431407015/1678382835539868/?type=3&theater[/facebook]
She added: 'We have no idea how it slipped through. We tried everything, on and off bouts of the pill, withdrawal, morning after pills.'
Posing the question: 'Are we happy?' she went on to write: 'As pigs in s**t. Well… I'm hormonal, I considered having an abortion this morning because Densy slept in.'
But despite her concerns, the mum-to-be reassured her fans she 'loved this mother f*****, with every inch of my bloated body.
'We are our kids biggest fans and we don't see the harm in putting a new little soul right in the middle of it all,' she continued.
'Expect complaining... a lot of complaining. Baby number 7 is due sometime around June.'
The pregnancy announcement garnered over 5.3k comments and initially received a lot of backlash regarding the throw away comment about abortion, with some slamming the mother-of-four over her 'distasteful' announcement.
'Glad the child was an accident. Would hate to think she was reproducing intentionally', wrote one.
Another said: 'The worst part of this is that someday the tiny human will learn via internet that it was an accidental pregnancy & that it's "parent" considered an abortion.'
While another Facebook follower posted: ''Such RESPONSIBLE parenting! NOT! No doubt she will tell this poor child he/she was an accident and make a JOKE of it!'
This user didn't hold back: ''She's not very intelligent because her child will grow up to read the title of this article and will be hurt to read that they were a "mistake".'
Constance and fiance Denim
Following the backlash, Constance posted an apology, saying her pregnancy announcement was meant as a tongue-in-cheek post.
'A lot of people are angry that I joked about abortion. Actually, I was dead set serious, I did consider an abortion this morning,' she wrote.
Constance admitted that she even called her sister to say she was considering one: 'Yes I was hormonal and upset. And I use humour to lighten situations.
'I am pro choice, I always have been and I believe in normalising abortions, they shouldn't be a dirty secret that we don't discuss in public forums.'
Though she went on to explain that, in her opinion, abortions and miscarriage (opens in new tab)/fertility (opens in new tab) issues are two very separate topics.
'I would never joke about the latter. So I am sorry for offending those that were offended. It wasn't intended to offend', she wrote.
Following the apology, the messages of support came rolling in: 'Says so much more about them than it does about you. ' posted one fan.
Another said: 'Whenever someone is horrible just remember it could be worse. You could be them.'
This fan was brutally honest: 'You know what, I might not agree with everything you say (how boring if we all thought the same) But… I truly wonder what makes ppl feel that they have a right to be so nasty.'
Earlier this year, Constance revealed she and her estranged husband of six years - and father to her four children - were separating following their marriage breakdown.