Mum defending 'nakedness' around the house with Facebook post splits opinion
Some mums are not so keen on the idea...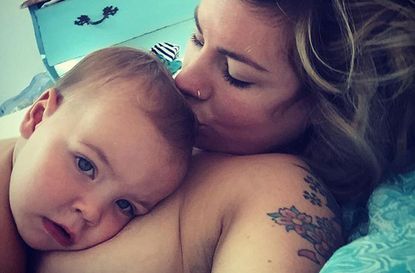 An Australian mum blogger defending 'nakedness around your children, homes and husbands' and urging other women to do the same has split opinion on social media.
Constance Hall, who previously shared a very honest post on 'parent sex' (opens in new tab), took to Facebook on International Women's Day to share her views, explaining the reason behind her decision.
https://www.facebook.com/1019711431407015/photos/a.1028239657220859.1073741829.1019711431407015/1098632346848256/?type=3&theater
In the post, the blogger explained that being naked around kids and partners could help end unrealistic expectations for women.
'I advocate nakedness around your children, homes and husbands. I don't want my boys expectations of women to resemble those that they see in magazines or TV nor do I want my girls expectations of themselves to', she wrote.
She also encouraged other women to do the same, in the hope this shows children what real bodies look like, and ultimately redefines the 'definition of beauty' for future generations and ends unrealistic body expectations.
'I believe that with the help of Queens loving themselves the next generation's definition of beauty will be radically different and no longer will we idolise the unrealistic airbrushed idea of perfection that causes so much self doubt and depression', she wrote.
'If you have stretch marks, a hairy minge, saggy boobs, a flat bum, smile lines, a wobbly belly, cellulite, a tiny chest, or any other REAL women women traits, the world needs to be flooded with your image. THE WORLD IS DESPERATE FOR YOUR BEAUTIFUL IMAGE.'
Constance's post provoked a huge reaction on social media, with over 4000 shares and 49,000 likes. In solidarity, many mums also posted pictures of themselves semi-naked with their children, sharing their views and postive reactions to the mum blogger's views. Erin Bolton was one of the mums who reacted positively to the blogger's post, writing: 'I was trying on dresses last week with my 2 year old son sitting in the change room with me, feeling so gross with my stretch marks and big wobbly belly in my undies and bras he looks up at me and said "mummy your so beautiful" it melted my heart and made me realize I need to stop being so uncomfortable with my body.'
https://www.facebook.com/1019711431407015/photos/pb.1019711431407015.-2207520000.1457436310./1077347622310062/?type=3&theater
Constance has previously talked about being bulimic and oftens promotes 'self love'
However, some mothers also seemed against the blogger's idea, especially because although it's important for children to grow up with more realistic body expectations, not being naked in the house does not necessarily mean being unhappy with how you look.
Amanda Pietrzak was one of the mums disagreeing with Constance, writing: 'I won't be naked around my kids because, while I've made my peace with my body, I also believe in modesty. My kids know I'm comfortable in my own skin and I'm teaching them to be happy in theirs and that's the important thing.'
Another mum, Nicky Middleton, also commented: 'I do and I don't agree with this. Running around your house in your undies during the morning routine is perfectly acceptable or doing the mad dash to get a towel in the nude is acceptable. We are a blended family and I have two older girls (9&11) it's just wrong to think that if they were comfortable in their own skin they would be running around naked. I have no body issues, I happy with my body. But it's my body and I'll share with my partner in private. I would like my kids to grow up happy in their skin (which they are) but not feel the need to strip around men to prove it.'
[apester]56debf0036e5105a3a7b1abe[/apester]