Dawn French discusses 'challenges' of raising adopted daughter Billie in rare interview
The 58-year-old comedian said mothering an adopted child hasn't all been plain sailing...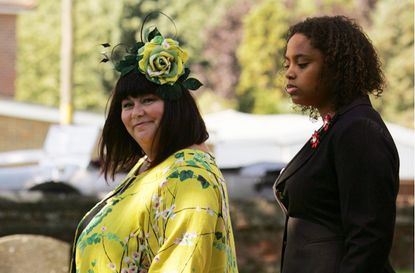 Dawn French has spoken openly about the relationship she keeps with her adopted daughter, Billie, in a rare interview.
Speaking honestly about a subject she doesn't usually broach, the mum-of-one talked of the 'challenges' she'd found raising Billie, and how motherhood hadn't been quite the plain sailing experience she'd expected. She said:
'I expected that if you nurture [a child], like a tomato plant, it grows towards the light, and surely if your mum is someone who wants to have fun with you and have adventures and read with you and spend time with you, how could you ever have a war?
Dawn and Lenny adopted Billie, here pictured at the wedding of Jools Holland and Christable McEwan in 2005, when she was just two weeks old
'But I haven't got a kid who wants to read with me and have adventures with me, I've got a different kind of kid who's a different kind of set of challenges and that's been my lesson.
'Nothing is ever what you think it's going to be at all. If the love wasn't there I don't know how we'd survive all this other stuff.'
She also admitted that Billie, now 24, has moved out of the family home, due to their sometimes strained relationship, although the pair do only live about a 12-minute drive away from each other in Cornwall. She said:
'We could no longer live together - there would be murder. But we have to live nearby.
The 58-year-old comedian admitted that it hadn't always been plain sailing when it comes to bringing up Billie
'Our relationship exists in a bizarre kind of process of peacetime, small battles, war. The peacetime is much more than the other two energies, but we have our wars.
'The love, thank God, is profound and I do thank God, because I love that kid so much that sometimes if I don't like her or she doesn't like me, we survive it.'
Dawn adopted Billie with ex-husband Lenny Henry in the early 90s, when Billie was just two weeks old. Dawn had been unable to have children naturally and has described Billie as 'the greatest achievement' of her life so far.
Do you find challenges with your own mother-daughter relationships? Let us now by leaving a comment below.
Parenting advice, hot topics, best buys and family finance tips delivered straight to your inbox.
Gemma Chandler is a lifestyle writer specialising in kids' educational media across a range of topics including nature, history, science and geography across digital, print, social media and video channels. She joined Creature & Co. at 2015, shortly becoming Digital Editor of National Geographic Kids magazine.