Dr Pixie McKenna says she'll discourage her daughter from becoming an older mum
'I wish I'd had her when I was a decade younger'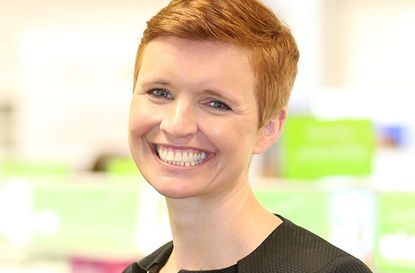 Dr Pixie McKenna has said that she'll warn her daughter about the struggles of becoming an older mother.
Pixie, who is best known for her work on Channel 4's Embarassing Bodies, gave birth to Darcy, 5, at the age of 40, and admits that having gone through the experience of being an older mum herself, she'll discourage her daughter from following in her footsteps.
Writing in an honest piece for the Daily Mail, Pixie says she'll make Darcy just as aware of the difficulties of older parenthood as she will the struggles of becoming a teenage mum.
'Mine will be the voice of experience,' she explains. 'One that will ruefully admit I wish I'd had her when I was a decade younger and would have found the challenges of motherhood so much easier.'
Pixie pictured with her Embarassing Bodies co-star Dawn Harper
She adds that whilst more and more women are delaying pregnancy until later life, recommendations from health professionals suggest that their mid-thirties are the the last optimum time for conception.
'Increasingly, we are delaying our families until middle age. But the unfashionable truth is that a woman's body has a sell-by date when it comes to being able to take for granted the ability to safely carry a child,' she says. 'Obstetricians put this at 35.'
'Maternal age remains a huge risk factor for pregnancy complications such as gestational diabetes, pre‑eclampsia, high blood pressure, premature or multiple birth, difficulties in the delivery suite and various genetic disorders.'
'Yet, because women can, and increasingly do, become pregnant in their 40s and even beyond — be that naturally or thanks to fertility treatment — we forget that their bodies won't necessarily be up to it.'
Pixie says that having her own daughter at 40 left her in a constant state of exhaustions, and that she felt 'dreadfully old' in comparison to other mums at the nursery gates. She admits that she feels she may have fared better having a child a decade earlier, and has now come to envy peers who have children who are now graduating, and have the freedom to take holidays or go for drinks spontaneously.
'I'd have loved to have had another baby. But I haven't been able to shake off the feeling that I got away with it once and couldn't possibly be that lucky a second time,' she concludes.
'And so Darcy will always be an only child. And when she asks why, as she inevitably will, I will use that as a starting point for our very first conversation about the realities of being an older mum.'
Trusted, informative, and empathetic – GoodTo is the ultimate online destination for mums. Established in 2007, our 15-year-strong archive of content includes more than 18,000 articles, 1,500 how-to videos, and 7,000 recipes.