Eating for two? Expert reveals how many extra calories women should REALLY be consuming during pregnancy
Some women believe they should be eating 300 or more extra calories a day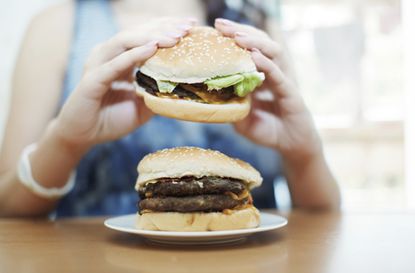 We've all joked that we're 'eating for two' when we're expecting, but a new survey suggests that some women may actually be taking the comment a little too literally.
The research, conducted by the National Charity Partnership (NCP), found two thirds of mums-to-be didn't know how much they should be eating while pregnant.
According to guidelines from National Institute for Health and Clinical Excellence (NICE), women should be eating the same amount of calories that they normally would (2000 a day) for the first six months of pregnancy, and then an extra 200 in their last trimester.
However, the NCP's research, which took into account responses from 2,100 women, showed that a third of the pregnant women thought they should be eating 300 or more extra calories every day.
What's more, over half (61 per cent) of the 140 women surveyed who were actually pregnant, thought it was okay to start eating more calories in the first or second trimester.
Alex Davis, head of prevention for the NCP, said that the right message needed to be given to pregnant women: 'Eating healthily and consuming healthy portion sizes are important before, during and after pregnancy to increase the chances of conceiving naturally, reduce the risk of pregnancy and birth-related complications and stave off health problems like type 2 diabetes and heart and circulatory disease in the long-term.'
Sandra Greenbank, a registered nutritional therapist specialising in fertility and pregnancy, believes that lack of information for pregnant women is the problem.
'It's not widely talked about or publicised so if you wanted to know how much you really need to eat, you'd have to be prepared to do some digging to find out.'
Sandra also explains why women in their last trimester need more calories.
'How many calories we all need day-to-day is very individual (whether pregnant or not) as it depends on our metabolism, height, weight and activity levels,' she details.
'The average woman needs around 200 calories more during the third trimester only, and this is because the baby is starting to gain weight rapidly. This is not a license to eat cakes every day though - you need nutrient dense foods to satisfy the need for yourself and your growing baby.'
So what should women be eating during pregnancy?
'It's important to get plenty of good quality protein, to supply the amino acids needed for build and repair. Essential fatty acids (DHA and EPA) are also very important to consume, and we need about 650mg during pregnancy which is hard to get without supplementation,' Sandra advises.
'These fatty acids help build the baby's brain and have been shown to have a positive effect on visual and cognitive development of the baby, and they may also reduce the risk of allergies.
'The best way to ensure you're getting all the right nutrients is if you consume 9-10 portions of fruit and veg every day, ensuring that you have eaten a rainbow of colours. To this I would add plenty of eggs, oily fish (fresh sardines are best), organic poultry, nuts and seeds.'
Sandra also recommends taking vitamins, including folate, to support the placenta, calcium and vitamin D to help build strong bones and teeth, helps prevent blood clots and helps muscles and nerves function properly, iron, to prevent anaemia, low birth weight and premature delivery, zinc, for a healthy immune system, and B vitamins, for energy.Save
Sarah is a freelance journalist, writing for various women's magazines and national online consumer titles including the BBC and The Daily Mail, for over 10 years. Sarah has interviewed CEO's, real-life case studies and celebrities. Writing on everything from travel to fitness, and business to beauty - some of her features have been read by millions of people - in just one day.