Parenthood star Erika Christensen reveals husband accidentally delivered newborn baby at home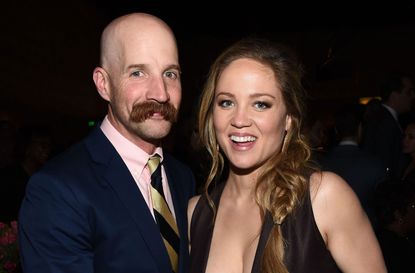 (Image credit: Michael Buckner/Variety/REX/Shutterstock)
GoodTo newsletter
Sign up to the GoodTo Newsletter. You can unsubscribe at any time. For more information about how to do this, and how we hold your data, please see our privacy policy
Thank you for signing up to . You will receive a verification email shortly.
There was a problem. Please refresh the page and try again.
Erika Christensen has revealed she's welcomed her second child with husband Cole Maness, but the birth didn't go exactly to plan.
The actor, who first revealed she was expecting her second child in June, announced the exciting baby news on social media.
In the post, Erika explained how the birth did not go as it was supposed to, as she waited too long to call the doctor - which is why her husband had to delivery their baby girl at home.
The parents even had to guess the baby's weight as the doctor forgot the baby scale as he was rushing to get to Erika's place. The couple also revealed the baby name (opens in new tab) they picked for their little one - Polly.
Top baby names for 2018 (opens in new tab)
Thankfully it all went well, and both mum and daughter were happy and healthy, as it can be seen in the adorable picture Erika's mum took.
Alongside the snap, the mum wrote: 'It happened! It happened this morning. And it will go down in family history because baby girl's own, incredible Dad delivered her all by himself.
'My fault, as I didn't know she would come so quickly and didn't call the doc until far too late. He came straight over and arrived about one minute after she joined us in the world. Haha! My Mom too.
'You should've seen their faces when they walked in to hear her little wail. Mom immediately took this picture. So epic. 9:21a (we think) at 7lbs 8oz (we think). 😆 Doc didn't have time to grab the baby scale in his rush. Meet Ms. Polly. She's chubby-cheeked and rosy and so beautiful. ♥️♥️♥️♥️♥️♥️♥️♥️'
Fans of the couple were quick to congratulate them on the birth of their baby daughter, with one saying: 'After seeing your Polly tummy lounging on the sofa, i knew she was soon here!! What a awesome birth!! Thanks for sharing the beauty of it all 😍😍😍'.
Another wrote: 'Many congrats on a job well done- all 3 of you. And this photo, simply breathtaking! Love the joy, love, and beauty captured here!'
A third also commented: 'Wow so amazing!!! I am sure you are so proud of one another - and loving that adorable blessing! Congratulations!'
Erika, who's best known for her role as Julia in the hit TV show Parenthood, and husband Cole have been married in 2015. The pair welcomed their first daughter Shane in June 2016.