Argos is selling a half Christmas tree to keep the branches out of the reach of kids and pets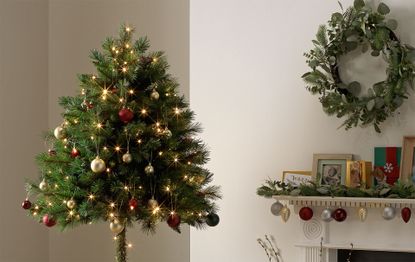 We've all had that moment of terror...
When we spend the first weekend of December decorating the Christmas tree with all our specially chosen decorations and then see the little ones running up to pick at the branches. Enter: disturbing visions of it toppling over.
Disturbing because we're worried about the kids of course, not the baubles…
But now one high-street sure has stepped to ease our anxieties and make toppling trees a thing of the past.
Christmas icon Argos is now selling a half Christmas tree to keep branches well out of the reach of crawling children and pawing pets.
Their 6ft Half Parasol Christmas Tree has a bare bottom half so you can conjure up the Christmas spirit in the house without the annual hazard risk.
Or if you've not got much space available for a tree, this is a good way to fit one in without it looking too squashed.
Loyal customers of the British classic have been unsure as to how they feel about this controversial and, let's face it, slightly odd-looking festive addition however...
While many parents have been supportive of Argos' 'excellent work' with the product, saying they would use them for their kids and pets, others were perplexed as to what it was and thought it was an 'amateur' move from the retailer, with one even claiming that it 'looks like a bog brush'.
On the plus side, if you're lucky enough to usually be fighting for space under the tree to fit all the gifts on Christmas morning, this unusual alternative does leave plenty of space to stack up the presents. Now they won't be spilling out into the rest of the room.
And, if you like the idea but want a more wintery look, the catalogue retailer are also offering a Snowy Half Christmas Tree version, which is covered in realistic looking artificial snow.
Both products were originally selling at £50 each but are not on offer, with the original at £33.33 and the snowy version at £37.50.
Aleesha Badkar is a lifestyle writer who specialises in health, beauty - and the royals. After completing her MA in Magazine Journalism at the City, the University of London in 2017, she interned at Women's Health, Stylist, and Harper's Bazaar, creating features and news pieces on health, beauty, and fitness, wellbeing, and food. She loves to practice what she preaches in her everyday life with copious amounts of herbal tea, Pilates, and hyaluronic acid.