These baby names are about to go 'extinct' in 2019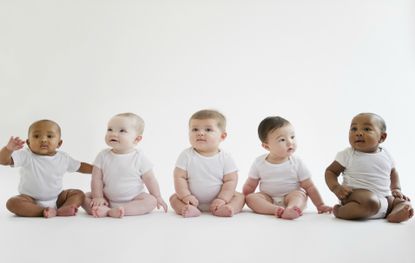 Choosing a baby name is always difficult, with many parents choosing unique names or ones that reflect popular culture. As a result, classic names are expected to die out.
Established classic baby names such as Sally, Wendy, Wayne and Malcolm are being given to fewer babies, and as the use of these names steadily drop, they're at risk of becoming 'extinct'.
Mother and Baby have identified 12 names which could no longer be used in the near future, after looking at the top baby names predictions for 2019.
For baby girls, they identified Elaine, Sharon, Doris, Sally and Paula.
These names have classic meanings with Doris being Greek for 'gift of the Ocean', and Sally meaning 'Princess'.
Wendy is commonly associated with Peter Pan character Wendy Darling, but since newer books, films and TV shows have emerged, people are choosing to name children after characters from there instead. Examples of this include Sansa and Skylar.
Read more: Unusual baby names: The most unique baby names we've ever heard
As for boys' names, Mother and Baby identified Geoffrey, Wayne, Neville, Malcolm, Clarence and Derek as names that might not exist in the near future.
Again, these classic names have some sweet meanings behind them, with Clarence meaning 'bright' and Derek being an English name for 'the people's ruler' - but both of these might disappear soon.
Read more: Most popular baby names: for boys and girls through the years
Geoffrey meaning 'pledge of peace' is also fading, alongside Wayne which translates to 'maker of wagons'. Arguably the most famous Wayne would be footballer Wayne Rooney, but new parents are finding new inspirations for their children's names.
If you're expecting or would like kids some day, we've got our very own baby names generator to help give you some inspiration. Give it a go, you might find one that sticks!
What names have you chosen for your children? Did you opt for classic baby names, or something more unique? Head to our Facebook page and let us know!
Lucy Buglass is a Digital Writer for What's on TV, Goodto.com, and Woman&Home. After finishing her degree in Film Studies at Oxford Brookes University she moved to London to begin her career. She's passionate about entertainment and spends most of her free time watching Netflix series, BBC dramas, or going to the cinema to catch the latest film releases.