You can now get a baby shark toy just in time for Christmas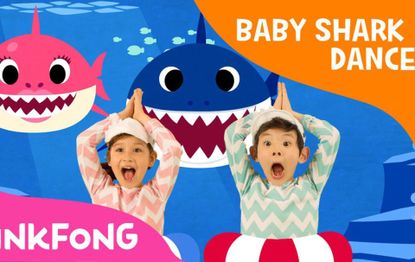 (Image credit: Youtube / Pinkfong)
Just what every parent wanted under the tree.
For most parents out there, it's highly unlikely that you will have got through the last few months without hearing the annoyingly catchy repetition of the baby shark song.
Chances are it's been on repeat in your house so often that it has now imprinted itself on your brain and you're sure you'll never be rid of it. Ever.
And, we're sorry to say, things are about to get worse.
Because you can now get a baby shark cuddly toy to wrap up and hide under the Christmas tree for your little ones. But be warned – it is not silent.
Like the once revolutionary Build-A-Bear toys, the stuffed baby shark will sound out whenever pressed, and it's not just a cringe-worthy message that rings out.
Every time your enthusiastic offspring give the toy a squeeze, it will blast out the infamous tune for your little one to sing along to (and for you to secretly join in with addictive rhyme).
https://www.youtube.com/watch?v=XqZsoesa55w
Produced by WowWee for Pinkfong, who originally created the headache-inducing ditty (thanks so much guys), there are three toys on offer for you to get your hands on.
Scoop up one of the jingle's well-known characters – Daddy Shark, Mummy Shark or, the song's namesake, Baby Shark.
Unfortunately, the toys aren't yet available to get in the UK, as they're currently being sold on the Amazon US page.
That may be for the best as they're not too easy on the purse strings. Toys cost between $64.99 (£50) and $79.99 (£62), so this is one earache you'll have to pay for.
If you do still want to get hold of one if only to see the smile on your little one's face come Christmas morning, try out UK high-street store The Entertainer where you can get them for £15 each. They're currently sold out but the shop has promised that they'll be restocked before Christmas.
Or if you're one of those super-prepared people who like to get everything done far in advance, head over to eBay, as they do have some available there.
And there they come in even cheaper at only £5.80 with free postage and packaging and if you order soon you can still get them in time for Christmas.
But be quick! There aren't many left so you'll have to hurry if you want to get your hands on them...