Parents are loving this new B&M product that will make kids want to put their dirty washing in the laundry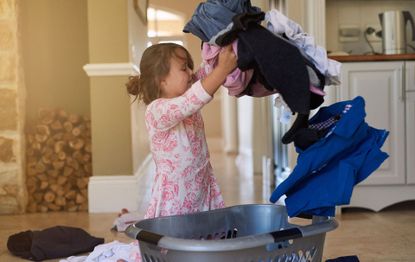 (Image credit: Getty Images/iStockphoto)
Getting the kids to help with chores in the house can be near impossible.
And with little ones running around throwing their dirty clothes wherever they find a spare patch of carpet, it's especially difficult to keep family households clean and tidy.
And with mums taking the brunt of the household work pretty much every day of the year (studies even show that mums still do the chores on Mother's Day (opens in new tab)), the ladies of the house can get a pretty raw deal.
So anything that can help get the kids to do their chores is always welcomed.
Well, bargain store B&M has come to the rescue with their new homeware release.
In a bid to make chores fun and get the kids to want to participate in looking after their family home, the high-street store is selling a laundry basket designed like basketball hoop.
https://www.facebook.com/bmstores/photos/a.151166664962170/1929378680474284/?type=3&theater
The clever Slum Dunk laundry basket hangs over your bedroom door or your wardrobe door and features a basket ball hoop with a closed netted bottom, so that kids can slam dunk their laundry straight into the basket.
When it comes to do the washing, you just empty the netting like you would a normal laundry basket.
And what's better is that you can get your hands on the genius laundry basket invention for only £6.99.
Unfortunately, it's not currently available online on B&M's website, but it you can get it in store. Though if you really can't make time to get out, you can get it from Amazon with Prime for quick delivery.
And getting involved in tidying the house could even help with your children's careers in the future, as a study has shown that kids who do chores when they're young make successful adults.
Want to make the most out of this purchase? Grab a couple of these lifesaving baskets and get the kids to help you do a spring clean and declutter the house.
This purse-friendly purchase is definitely a win-win.
Aleesha Badkar is a lifestyle writer who specialises in health, beauty - and the royals. After completing her MA in Magazine Journalism at the City, the University of London in 2017, she interned at Women's Health, Stylist, and Harper's Bazaar, creating features and news pieces on health, beauty, and fitness, wellbeing, and food. She loves to practice what she preaches in her everyday life with copious amounts of herbal tea, Pilates, and hyaluronic acid.