Bride asks if she's right to be annoyed with her bridesmaid for cradling her baby bump in wedding pics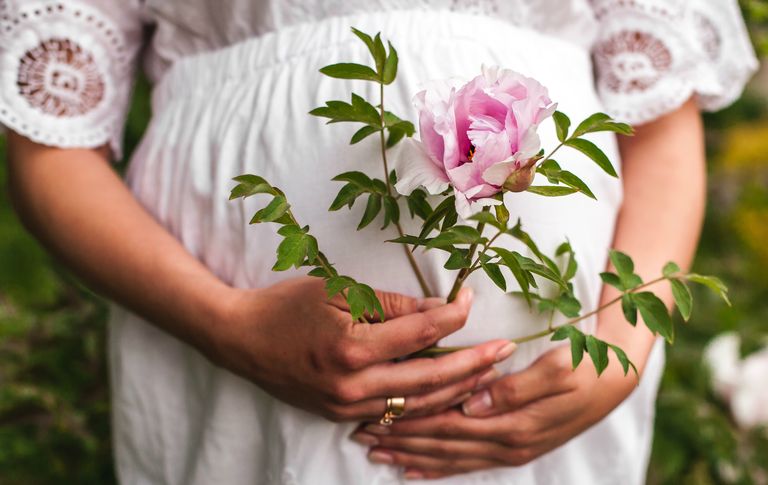 The bride took to Reddit to ask whether or not she has a right to be annoyed.
It's a common theme for many pregnant women to often reach out and cradle their baby bumps.
Whether it be out of comfort, protection or just a subconscious movement they don't even realise they're making.
It's an action that has been subject to some speculation recently, with Meghan Markle being criticised for cradling her bump 'too much'.
Read more: Meghan Markle could be consciously cradling her bump for a very important reason
So, are there certain situations where it's not appropriate to touch the bump or draw attention to it? How about, for example, when you're taking professional photos for your friend's wedding?
One bride posed these questions on Reddit, taking to the site to ask whether she was reasonable in telling her bridesmaid to stop holding her belly during her wedding photos.
On her post, the bride wrote: ' I got married three weeks ago and one of my bridesmaids is about 7 months pregnant (let's call her Kate).'
'Kate's belly was easily accommodated into the dress style because it had quite a flowy skirt with a fitted bust.
'Between the ceremony and reception, we had a few hours worth of professional photos taken with just the wedding party.
'In one of the first photos I noticed Kate was deliberately holding her belly so it was really obvious in the fabric of her dress (think basically every maternity shoot photo ever taken).'
The bride continued: 'I asked her to stop holding her hands to show off her belly and to just pose like everyone else. I had to remind her a few more times before we'd finished taking the wedding party photos.'
Read more: Mum sparks debate with controversial outfit choice for her friend's wedding (opens in new tab)
The woman went on to explain that on returning from her honeymoon, the bridesmaid was ignoring her calls and texts.
'Today another of my bridesmaids confirmed that Kate is pissed at me because I was 'trying to make her look fat, not pregnant' during the photos.'
'Now I'm annoyed because I paid a lot of money for a wedding photo shoot, not maternity pics.'
The bride then asked fellow Redditors whether or not she was in the wrong by concluding her story: 'am I the a**hole?'
The woman even impressively made a poll of different judgments for people giving their opinion to vote on, with the options being: 'YTA - you're the a**hole', 'NTA - you're not the a**hole', 'ESH - everyone sucks here', and 'NAH - no a-holes here'.
Agree or disagree with her, you can't deny that she implemented an efficient voting system to lay this issue to rest.
Some Redditors went with the NTA option, defending the bride for not wanting the attention to be taken away from her in her own wedding photos.
One user wrote: 'Those are your wedding photos, and there is absolutely no reason someone should be deliberately showing off their 'baby bump' to take away from the bride in a photo.
'If she didn't feel comfortable in the dress, she could have opted out of being in the wedding. But making the photoshoot about herself and demonstrating her pregnant belly is not acceptable in a wedding photo.'
A couple of NAH candidates also shared their two cents, arguing that it's only natural for a pregnant woman to put her hand over her belly in photos.
One mother wrote: 'As someone who was very recently pregnant, I can tell you I posed with my hand on my bump in every picture I took. I put my hand in my bump when I went out in public. Because it sucks being giant, and yes, you want people to know you are pregnant and not just huge.'
Another stated: 'I agree, putting your hand on your bump just shows that it's a bump instead of letting the bottom of the skirt just flow and risk looking like some giant chiffon covered cow.'
What do you think of the debate? Head over to our Facebook page and let us know your thoughts!
Niamh McCollum is a freelance lifestyle writer who has written for Future titles GoodTo and Marie Claire UK, plus the Irish Independent. The Dublin-based journalist specialises in stories
affecting families - from health updates, to the freshest parenting debates and celebrity announcements.