Mum sparks debate with controversial outfit choice for her friend's wedding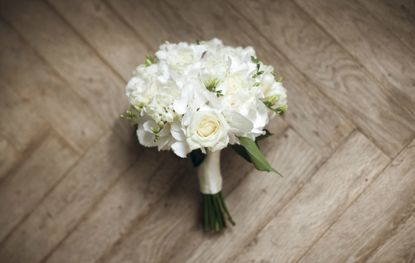 All hell has broken loose on Mumsnet...
A wedding guest divided opinion after revealing plans to wear a white dress to her friend's nuptials.
The anonymous wedding guest took to a Mumsnet forum (opens in new tab) to ask fellow users' opinion on whether or not she could get away with such a controversial ploy, writing:
'I've just purchased this dress for a charity event I have to attend but I am hoping it will double up for an upcoming wedding due to the cost and I am having to have the dress altered and taken in slightly so would be nice to get more than one wear out of it.'
She continued: 'It will only be the evening reception I am attending. It will be paired with black shoes and a black bag and the bottom of the dress is like a taupe colour.'
In spite of her (many) justifications, the woman was showered with comments from Mumsnet users who reckoned she should save the dress for another time.
Some were a bit more polite than others: 'Absolutely not. It's lovely, but not for a wedding. Just don't be that person.'
Another said: 'Nice dress but sorry no. It's the wrong colour. It would actually make a really nice wedding dress for a casual do, but this is why you can't wear it.'
Other users were a bit more... let's just say, firm, about the whole situation: 'If it was any other colour it would be fine. But white to somebody else's wedding a NO.'
Read more: The meaning behind the most popular wedding traditions (opens in new tab)
One person also made this pretty valid point: 'You could wear any other colour without fear of causing offence except white. So why wear white?'
Do you think wearing white to a wedding is disrespectful to the bride - or is this thought a little outdated? Head over to our Facebook page and let us know your thoughts.
Freelance Lifestyle Writer
Niamh McCollum is a freelance lifestyle writer who has written for Future titles GoodTo and Marie Claire UK, plus the Irish Independent. The Dublin-based journalist specialises in stories
affecting families - from health updates, to the freshest parenting debates and celebrity announcements.