These old children's books could be worth thousands of pounds
Do you have any of these in your loft?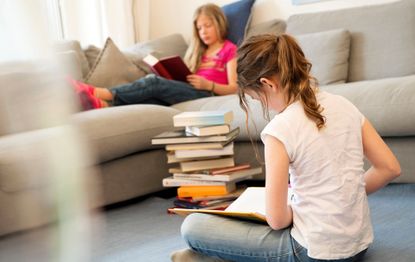 (Image credit: REX/Shutterstock)
Do you have any of these children's books in your loft? If so, they could be worth some serious money.
Hands up if you've got a box full of childhood books gathering dust in your garage or attic.
If so, you've probably thought about taking them to a charity shop or making a few pennies – or if you're lucky, pounds – from them at a car boot sale. Well, stop right there.
Some classic children's books could be worth up to £12,000 according to antiques expert David Harper. Yes, really.
The Very Hungry Caterpillar is one of those books that's really stood the test of time. First published in 1969, it's still one of Amazon's bestselling children's titles.
A brand new copy will set you back just £3.99, but if you happen to have an original 1969 edition, it could net you a cool £12,085 – assuming it's in mint condition.
And while you can also nab a new copy of Maurice Sendak's classic kids' book Where The Wild Things Are for less than a fiver, if you have a 1963 first edition lurking in your attic, it could earn you £5,090.
That's more than three times as much as you'd have got if you'd sold it in 2004, when it would have fetched £1,540.
Even books from the '80s and '90s could net you hundreds of pounds – a first edition of 1985's The Polar Express is worth £475, while a copy of The Gruffalo dating from 1999 could fetch £161.
Damaged or missing pages or dust jackets can 'significantly' decrease the value of a book, but even one that's 'a bit thumbed and looks valueless' might be of value to an eagle-eyed collector, David explained.
If you're unsure, check for the edition number and date on the inside cover, then head on over to Google.
David rounded up ten of the most valuable 20th century children's books for HomeProtect (opens in new tab) Insurance:
The Very Hungry Caterpillar (1969 edition), £12.085
Where the Wild Things Are (1963), £5,090
The Velveteen Rabbit (1922), £6,971
The Giving Tree (1964), £3,491
The Cat in the Hat (1957), £831
The Tiger Who Came to Tea (1968), £641
Histoire de Babar (1931), £538
The Polar Express (1985), £475
The Gruffalo (1999), £161
The Little Engine that Could (1930), £127
Samantha is a freelance writer at Goodto who has been with team since 2019. Initially trained in psychology, she specialises in health and wellbeing and has additionally written for magazines such as Women's Health, Health & Wellbeing, Top Santé, Healthy, Refinery29, Cosmopolitan, Yahoo, CelebsNow, Good Housekeeping and Woman&Home.