Tesco has been criticised for having a 'Girls Toys' aisle
'This isn't really acceptable anymore'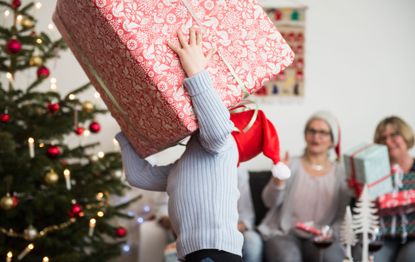 GoodTo newsletter
Sign up to the GoodTo Newsletter. You can unsubscribe at any time. For more information about how to do this, and how we hold your data, please see our privacy policy
Thank you for signing up to . You will receive a verification email shortly.
There was a problem. Please refresh the page and try again.
Tesco has come under fire for having an aisle specifically for 'girls toys' at a time when campaigners are also pushing for gender-free toys.
Over the last few months and weeks you've probably been busy scouring the shops and the Internet for the top Christmas toys (opens in new tab) for your kids.
It can be hard to keep on top of all the changing trends and there is always a new unicorn-cum-slime-cum-dinosaur-poop creation that the kids are going wild for.
But if you're trying to buy toys that don't subliminally re-enforce gendered stereotypes, it can be a bit of a minefield.
One dad has called out supermarket Tesco for their 'Girls Toys' aisle and it's come just as campaigners are ramping up their demands for gender-free toys.
Taking to Twitter Rob vented: 'Come on @Tesco. This isn't really acceptable anymore. My daughter loves unicorns and dolls. She ALSO loves robots, dinosaurs, rockets, monsters and Lego. Don't make me have to reassure her that this is ok. @LetToysBeToys @letclothesbe'.
Several other parents were quick to agree with one person writing: 'Well said Rob if they just left the sign saying Toys it would of been acceptable for all.'
Another said: 'Not to mention the boys who may want these toys but feel they can't have them...'
In classic British style, lots of Twitter users also pointed out Tesco's embarrassing grammatical error – did you spot the missing apostrophe?
One person explained: 'Plus, how is she supposed to get to grips with English grammar if @Tesco omits the crucial apostrophe indicating the possessive? Perhaps they don't think girls should be worrying their pretty little heads about that.'
Have you noticed it is hard to buy toys for your children that aren't gendered?
The fury over Tesco's toy aisle comes just as the Gender equality charity the Fawcett Society are also getting involved with its own campaign #SmashingStereotypes to mirror the sentiment of the Let Toys Be Toys campaign which was started by a group of parents on Mumsnet.
Launching the campaign on Twitter the Fawcett Society explained: 'The #ChristmasShopping season is upon us! All too often the way toys are labelled and packaged is still selling harmful gender stereotypes to children. Ahead of the launch of our new #SmashingStereotypes project next year, we want you all to tweet us pictures of anything you see!'
People have been sending in their examples on Twitter and it's got a lot of people talking.
One frustrated parent shared: '#smashingstereotypes magic wands only come in pink....my son asked why and I couldn't tell him.'
What do you think of the #LetToysBeToys and #SmashingStereotypes campaigns? Have you come across any examples that shocked you? Head over to our Facebook page to join the debate…