Motorist shares clever hack for defrosting car windscreen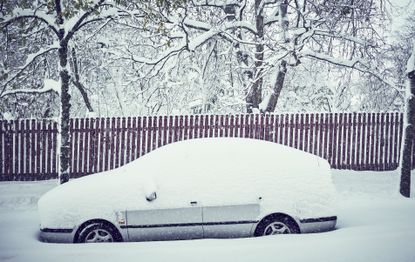 A clever motorist has taken to Facebook to reveal his genius hack for defrosting a car windscreen.
So snow has hit several parts of the UK yet again, and predictably, the people of the UK are feeling sufficiently unprepared - especially when it comes to the hassle of commuting to work in icey conditions.
The shock of this sudden drop in temperature has had social media users scrambling to their pages to share snow and ice related anecdotes, memes, and most importantly, hacks.
The memes are entertaining, of course, but what will really keep our nation going through this time of super inconvenience are the secret hacks that members of the public have selflessly come forward to share with the rest of us.
Take, Daniel Harris, for example. This motorist-turned-good-samaritan took to Facebook to share a video of his quick, easy and hand-warming trick for defrosting a car windscreen.
Using simply a sandwich bag filled with warm water, David moves it over the top of his car's screen as the trail behind it melts all traces of ice to reveal a clear windscreen within 30 seconds.
https://www.facebook.com/100009618093400/videos/vb.100009618093400/2143078366022746/?type=2&video_source=user_video_tab
The caption of his video read: 'Hot water in a food bag and bam you've got a de ice and a hand warmer. Works a treat, and it's fast!'
The clip, which has received over two million views and has been shared as many as 25,000 times, has been praised by impressed Facebook users who can't believe how much easier it is than using a traditional de-icer.
To make sure that people knew the trick was accident free, the savvy motorist added this disclaimer to his caption:
'I used warm tap water so I could safely hold it and lower the risk of cracking my screen. The de-icer cans are so cold in the morning and this way keeps u nice and toasty!!!'
School closures: How to check if your child's school is closed today
Not only is this hack super speedy and simple, it could also save you from potentially being fined. Drivers have been warned that if they fail to defrost their windscreens they could be slapped with a fine of £60 and three points on their license.
Facebook users have flocked to comment underneath the video and share their amazement at the very handy hack, with one person writing: 'I need one of those! Better than using my bank card'
Another cautious user commented: 'omg it looks like it works really good!! Knowin me it would explode and give me 3rd degree burns'
If you're looking for something to make that early morning commute easier then be sure to try out David's hack, but remember, avoid using boiling water and opt for warm tap water instead.
Do you have an ice-defeating hack that you'd like to share with other readers? Head over to our Facebook page and let us know!
Parenting advice, hot topics, best buys and family finance tips delivered straight to your inbox.
Freelance Lifestyle Writer
Niamh McCollum is a freelance lifestyle writer who has written for Future titles GoodTo and Marie Claire UK, plus the Irish Independent. The Dublin-based journalist specialises in stories
affecting families - from health updates, to the freshest parenting debates and celebrity announcements.