Concerned mum writes hilarious list of rules for teenage son going on lads' holiday to Magaluf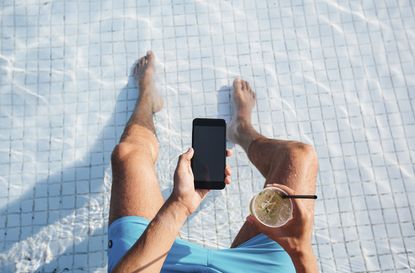 (Image credit: Getty)
A concerned mum wrote a hilarious list of rules for her teenage son before he headed off on a lads' holiday.
18-year-old Finlay Brockie took to Twitter to share the amusing messages his mother had sent him, outlining a list of rules that she wants him to follow when he goes away to Magaluf with friends.
'I'm starting to stress about u going to Magaluf tomorrow,' began the concerned mum. 'I've been thinking about some words of advice.
'1. Don't drink before you get to the airport. If u r drunk they wont let u on the plane. Just remember the Eminem concert!....Well actually I don't support u can remember the Eminem concert.
'2. Don't take your passport out at night for ID. Over the last month or so you've lost 2 provisionals, 3 door keys, bank cards, money and a wallet. You cant be trusted. I recon if u look over 12 in Maga u prob wont get ID'd. If u lose it they wont let u home, which wouldn't be that bad but u only have about a tenner spending money.
She then reminded the teenager, from Dunfermline in Scotland, to make sure that he ate enough food, especially when drinking.
'4. If there's a boat party or even a pool party, u just stay away,' she continued. 'Mind that time u accidentally walked in to a pond and had to come home naked without a working phone?
'5. Dont get a tattoo…Or if u have to get one make sure it's on your bum so that when you're regretting it for the next 70 years it's not such an obvious daily reminder of when u were an 18 year old twat.
'6. Dont have unprotected sex,' she warned, alerting him of the risk of sexually transmitted infections (opens in new tab).
'I've only got one or 2 more,' continued the worried mum.
'Dont phone me for a chat when u r drunk. I will only worry! I also don't need video called in the early hours to speak to randoms.
'Look after each other,' she added, 'and phone me if there are any problems. I'm trying to think who out of the group is the most sensible but I'm struggling.
'I love u more than life,' finished the worried mum, 'so have fun but come home safe.'
The post swiftly raked up nearly 400 comments, over 55,000 likes and was shared 5.5k times.
Twitter users fast became fans of the concerned mum, calling her 'cute' and a 'hero'.
Let's hope he takes on all of his mother's advice!
Aleesha Badkar is a lifestyle writer who specialises in health, beauty - and the royals. After completing her MA in Magazine Journalism at the City, the University of London in 2017, she interned at Women's Health, Stylist, and Harper's Bazaar, creating features and news pieces on health, beauty, and fitness, wellbeing, and food. She loves to practice what she preaches in her everyday life with copious amounts of herbal tea, Pilates, and hyaluronic acid.