Disney's Beauty and the Beast slammed for sending damaging messages to kids
Dr Victoria Cann says classic Disney cartoons are sending worrying messages about women's roles to our children.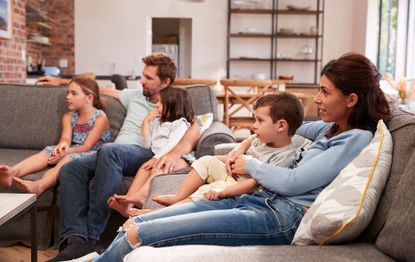 (Image credit: Monkey Business/REX/Shutterstock)
Dr Victoria Cann says classic Disney cartoons are sending worrying messages about women's roles to our children.
We all enjoy a cosy evening in with a classic family film. And earlier this year, experts reported that watching classic Disney films could help with children's emotional growth (opens in new tab).
But now a growing number are warning that they could have a darker side.
So what should we be worried about? Dr Victoria Cann, who is a lecturer in Humanities at the University of East Anglia, says that Beauty and the Beast is the Disney film with the most worrying message because it normalises domestic violence.
'The Beast always feels on the verge of violence,' Dr Cann told The Sun. 'It gives the unnerving idea that if a woman perseveres long enough, she can change an angry partner.'
Dr Cann argues that Belle falling in love with her captor is 'a classic case of Stockholm Syndrome.' So not quite as romantic as we first thought.
Even the happy ending could be problematic because when the Beast turns into a handsome prince, it gives the idea that 'now he's good looking, he can't possibly be angry or threatening,' she explains.
Dr Cann also says that Disney films like Cinderella promote the idea that 'how you look and dress is what's important about you.'
'The message here is that if you're beautiful enough, a rich man might fall for you and take you to live in luxury,' she argues. But 'before she has fine clothes, Cinderella is invisible'.
Films that feature wicked stepmother characters or 'evil' older women (think Cinderella, Snow White and The Little Mermaid) also promote unhelpful ideas of female rivalry, she says. 'The message is that you can't be a single woman without being jealous or unhappy,' says Dr Cann.
And besides the consent issues all that kissing of unconscious princesses throws up, the films create 'unrealistic expectations of relationships' because they set up the idea that 'once you find the person you are supposed to be with, everyone lives happily ever after,' she argues.
But newer films like Frozen send more positive messages because they show that 'a woman does not need to be saved by a man,' says Dr Cann. 'When children are younger, these sort of films send more positive messages, so it might be better to show these first,' she advises parents.
When they get a bit older, you can still share the classics with them, but encourage them to think about and question the issues the films raise, she suggests.
Samantha is a freelance writer at Goodto who has been with team since 2019. Initially trained in psychology, she specialises in health and wellbeing and has additionally written for magazines such as Women's Health, Health & Wellbeing, Top Santé, Healthy, Refinery29, Cosmopolitan, Yahoo, CelebsNow, Good Housekeeping and Woman&Home.