How best-selling author Elizabeth Day is breaking the taboo around fertility and work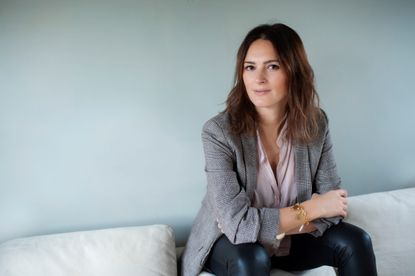 Goodto Newsletter
Parenting advice, hot topics, best buys and family finance tips delivered straight to your inbox.
Thank you for signing up to GoodTo. You will receive a verification email shortly.
There was a problem. Please refresh the page and try again.
Fertility issues affect 3.5 million people in the UK – yet how many women feel comfortable talking about it at work?
Far too few, according to research by LinkedIn that shows two-thirds of UK workers wouldn't discuss the subject with their employers. Fears it might affect their career prospects loom large.
It's a burden of stress no one should have to cope with and that's why journalist, broadcaster and best-selling author Elizabeth Day is speaking out about her own fertility difficulties and explaining why she kept silent at work.
Like most women, Elizabeth grew up imagining she'd have a family. Aged 15 she wrote an essay at school imagining she'd be married by the age of 26 and a mother at 30. It wasn't to be.
Now 40, she married at 32 and spent a year and half conspicuously 'not getting pregnant'. A visit to her GP led to a referral to London's Chelsea and Westminster Hospital, followed by scans that revealed a bicornuate (heart-shaped) uterus, which was unusual. She was advised to go straight to IVF.
In January 2014, Elizabeth embarked on two back-to-back cycles of IVF, each costing £4,000, plus expensive drugs. Injecting yourself daily and trying to carry on as normal is something all women going through IVF experience, she says.
'There's a trigger injection too – to start the egg collection process – the timing is very precise and I remember having to go to a work dinner with my husband and disappearing off to the loo to inject myself, then returning as if nothing had happened.'
On each round, Elizabeth got to the final stages and had an embryo implanted. There followed a two-week wait, only to be told they hadn't 'stuck'.
'That was really, really upsetting,' she says. 'I was numb, it was as if the world had been drained of colour. I was in slow-motion grief, very down and very tired –typical symptoms of depression.'
Incredibly, she kept all the plates spinning in her job as a staff features writer – no one at the newspaper knew a thing about what she was going through.
She had fitted IVF appointments around deadlines, compiling lists of short stories on a laptop while she waited to be seen.
'I wore it as a badge of pride,' admits Elizabeth. 'Being able to professionally execute my work gave me a measure of self control but the knock-on effect was that my grief became compartmentalised and when it did hit, it was very traumatic.'
In August 2014, Elizabeth became pregnant. Just before her 12-week scan, she had a 'missed miscarriage' – the embryo had died inside her.
'My then husband called my editor, who was incredibly kind and said to take the time off that I needed.
'Hearing that was a very good lesson for me – I could see how work might actually have responded earlier if I had opened up about it. That's why it's so important to foster open discussion at work among colleagues.
I'm so delighted LinkedIn has raised this important subject, carrying out such necessary research and encouraging us all to share our stories and join a discussion around fertility in the workplace. I've lost count of the number of times people ask if I have children. I reply "Sadly not", but it's not a place I have come to without emotional cost.'
Elizabeth's advice to women going through fertility treatment
• Going through the treatment process is both emotional and lonely so find someone you can talk to – a friend, a colleague, your partner. In my case it was my best friend, who's a psychotherapist, and my mother who helped me to realise it was OK to be sad.
• If counselling is offered, accept it. I started seeing a therapist when I was going through IVF and it was a valuable investment in my mental health.
• Don't overload your diary – you don't have to carry on as normal.
• If you feel able to, tell people at work what you're going through. Colleagues can be a valuable source of support.
• Be kind to yourself – you are NOT a failure – and you are not alone.
Fertility Network UK offers practical and emotional support for anyone experiencing fertility issues.
Join the conversation on LinkedIn to help lift the stigma by using #FertilityAtWork
Parenting advice, hot topics, best buys and family finance tips delivered straight to your inbox.