Frankie and Benny's let kids eat free if phones are BANNED from the table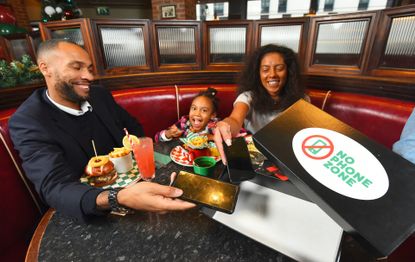 Family-friendly restaurant chain, Frankie and Benny's, is offering free kids' meals on one condition… that mobile phones are banished from the table.
Famous eatery, Frankie and Benny's, says it wants to 'encourage people to focus on their food, friends and family during mealtimes'.
In a bid to reach out to families the brand conducted a survey, which showed that as many as 72 per cent of kids wish their parents would spend less time on their phone. This same survey also revealed 77 per cent of the parents polled feel guilty about the amount of time they spend on the phone.
With this in mind, the 'no phone zone' promotion is the very first of its kind. (Though TV presenter Tess Daly has banned phones at the dinner table for years in her house.)
This exciting new promotion runs for just one week - from today until 7th December across all 250 locations in the UK.
And the rules are simple. Diners up to the age of 14 will be able to order from the children's menu free of charge, but must be accompanied by paying parents and they must all hand in their devices when they take their table.
It seems that the pioneering move could prove a success. Especially as a whopping 56 per cent of British children said they would really like to have more conversations with their parents.
Parenting expert Susan Atkins says: 'I am delighted to see Frankie & Benny's are leading the way by banning screens at the table.
'We live in a busy, fast paced 24/7 digitally connected world. Unless we consciously plan not to be.
'So, I love the idea of families sitting together, eating and chatting together away from screens.
'Parents are role models in everything that they do and in everything that they say. So by managing their own screen time parents are teaching their kids by example about when and where technology use is appropriate.'
A spokesperson for Frankie and Benny's, adds: 'We looked at various ways we could encourage people to engage more at the dinner table.
'And we've found giving families the chance to part with their devices for a mere couple of hours is a great way to bring them closer and embrace family time.'
The move has been met with mixed reactions on social media.
Many Frankie and Benny's fans are full of praise; 'This is a really good initiative from The Restaurant Group /Frankie and Benny's. I'd love to see more restaurants doing this!' comments one fan.
While another adds: 'LovingFrankie and Benny's idea to stop parents using their devices and talk to their children during meal times! Too much time is spent look at our screens!'
One fan explains how sad it is seeing people out and about looking at their phonesL 'Love your no phone idea. It saddens me to see couples and families on their phone when I go out.
'What is the point of going out? Mobile phones are killing off all the good things in society. Bring our traditions back. I would happily give up my phone, easy!'
Another joked how it frees up his timeline of food photos: 'Great idea from Frankie and Benny's now it saves my timeline looking a photos of food
While others are a bit more sceptical about the brand's decision: 'SoFrankie and Benny's Have banned all mobile phones from their restaurants, like that's really going to work' ranted one Twitter user.
While another added: 'Frankie and Benny's banning phones is another great company decision, like their one to always over cook their pasta and charge £12 for the privilege.
What do you you think? Head on over to our Facebook page and let us know.
Stephanie Lowe is Family Editor at GoodTo covering all things parenting, pregnancy and more. She has over 13 years' experience as a digital journalist with a wealth of knowledge and experience when it comes to all things family and lifestyle. Stephanie lives in Kent with her husband and son, Ted. With his love of choo-choos, Hey Duggee and finger painting he keeps her on her toes.