'I got down on my hands and knees in the road' Georgia Jones reveals dramatic labour experience
She welcomed her first child in January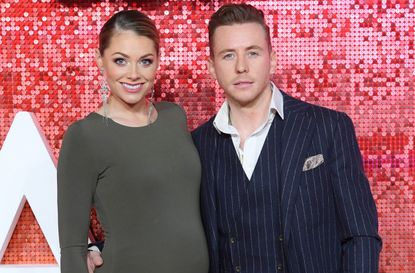 Georgia Jones has shared some very intimate details about her experience of labour with fans.
Speaking in a YouTube video alongside her 32-year-old McFly star husband Danny Jones, the new mum revealed how she quickly went from enjoying a meal out to making a mad dash to the hospital to give birth to her first child, Cooper.
'As I walked out of the house, a contraction hit when I was crossing the road to get to our car', she told viewers of her channel.
'There was nothing I could do than get down on my hands and knees in the middle of the road. As soon as I did that, a car rounded the corner. Thank god I had a bump as otherwise I would have just looked drunk.'
Realising that a vehicle was heading her way, Georgia went on to say that she had to act quickly.
'I was in the middle of the road with a car coming towards me and it took every ounce of strength to get myself out of the road and on to the foot path. By the time I'd done that, another contraction had come', she continued.
'I had to run back into the house and sit on the toilet.'
Keen to be totally honest about the whole process, Georgia also decided to give her followers a little more insight into what her contractions felt like.
'I kept getting this urge to poo. I did poo but towards the end, I was still getting the urge but couldn't go to the toilet', she admitted.
'It felt like the baby was coming out. The sensation was just bizarre. I felt like I was doing the biggest poo of my life.'
By the time they reached the hospital, Georgia was examined by a midwife and learnt that she was already 10cm dilated - meaning she was past the stage of being allowed to have an epidural.
With pain-relief provided by gas and air instead, Georgia and Danny's son Cooper Alf was born just 36 minutes later.