'At least 95% of my memory had been taken' Mum reveals her memory loss meant she couldn't remember giving birth to her son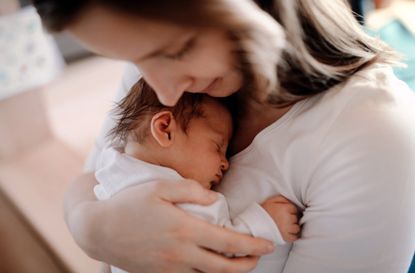 Many mothers will remember the birth of their children for the rest of their life, but Camre Curto completely forgot giving birth to her baby.
American couple Steve and Camre Curto appeared on This Morning to speak to Holly and Phil about the horrifying ordeal which left Camre unable to remember giving birth.
Giving birth for Camre was incredibly traumatic. She suffered a seizure, a cataclysmic stroke and also had undiagnosed pre-eclampsia (opens in new tab), a condition that affects some pregnant women during the second half of their pregnancy.
As a result, she lost oxygen to the brain for around five to seven minutes. Steve explained that her "severe brain injury just happened to be located right on her memory lobe".
Steve added, "When they pulled the tube out just a few days later, my parents and myself, we noticed something wasn't right.
"We realised she'd suffered a severe brain injury, had lost all her memory, and then didn't know that she'd given birth to her son.
"She didn't know myself, didn't know her parents, she didn't know her own self. Everything was wiped away."
https://www.youtube.com/watch?v=FJ7yLfpPeuo
Steve said he had to take over the parenting duties, and that each day they'd help Camre to relearn and rebuild.
Steve said the experience was "unimaginable", adding, "It's still hard for me to go back and think about. It was the greatest moment of our lives but at the same time the most tragic moment of our lives."
Read more: Jeff Brazier reveals wife Kate Dwyer changed her mind about having children after they got married
Phil asked the couple how Camre's memory was now, to which Steve replied, "Over seven years, it's turned from minutes to hours to days... her memory has improved."
Steve has even written a book about the couple's ordeal, and Camre reads it to help her remember things and understand her past life.
SHOP NOW, But I Know I Love You, £10.86, Amazon. (opens in new tab)
The couple have their own dedications at the front of the book. Steve's reads: 'To Camre, who is the strongest, bravest person I've ever known.'
Camre's reads, 'To Steve, who has never left my side.'
And they have a joint dedication to their son, which reads, 'To Gavin, our wonderful son... Mommy and Daddy love you.'
It ends praising nurses and caregivers for all their hard work and responsibility, 'To all the nurses in Neonatal Instensive Care units, who are simply the best.
'To all caregivers, who have to shoulder so much responsibility every day.'