Gordon Ramsay reveals the embarrassing thing he did after his son went to university
Have you ever done this?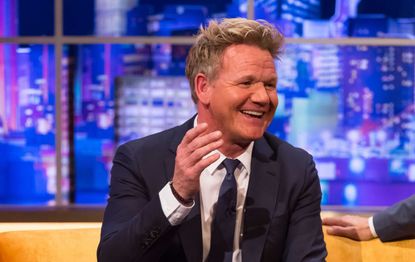 Gordon Ramsay was left feeling pretty sad when his 18-year-old son Jack left home to go to university, and responded with some rather odd behaviour.
If you've got older children who have gone off to university you might be able to relate to how 51-year-old father-of-four Gordon was feeling.
When his son Jack left home to study at Exeter University this year and Gordon has admitted that he was feeling so heartbroken by his son's move that he went into his bedroom and tried his clothes on!
Speaking on US chat show The Late Late Show with James Corden, Gordon explained: 'I went upstairs to Jack's bedroom last weekend and I opened the door. His socks and pants are there – and five minutes later I am wearing them.'
Gordon continued: 'He is the same size. All mine were in the bloody wash so I thought Jack has nicked my bloody pants again. Low and behold upstairs in his drawer. So I put them on and just sat on the bed thinking, "damn bud I miss you". Seriously.'
The father-of-four admits that he wasn't properly ready for the reality of his kids, especially Jack moving away.
He told James: 'It was really tough. I spent all summer with Jack, swimming every day, so I knew this moment was coming. I was gutted.
'We had 20 minutes to unload the car and get him into this tiny little flat, like a prison cell, I was gutted. We unpacked all this stuff and had to say goodbye. I was gutted, I got back in the car and I was a mess.'
Jack's twin sister Holly is also away studying in London and their older sister Megan, is studying psychology at Oxford Brookes University.
Gordon has been left feeling so lost due to his children's moves that he hopes his youngest daughter, 16-year-old Matilda will decide to stay at home until she is 25!
While Gordon clearly dotes over his children, he operates a very strict parenting style.
In previous interviews he has revealed that he never lets the children sit in first class with him when flying and they won't inherit his whole fortune.
He said: 'It's definitely not going to them, and that's not in a mean way. It's to not spoil them. The only thing I've agreed with Tana is they get a 25 per cent deposit on a flat, but not the whole flat.'
Jessica currently works as a Senior Food Writer at Future. She writes food and drink-related news stories and features, curates product pages, tests, and reviews equipment, and also develops recipes that she styles on food shoots. An enthusiastic, self-taught cook Jess adores eating out and sharing great food and drink with friends and family. She has completed the Level 1 Associate course at the Academy of Cheese and is continually building on her knowledge of beers, wines, and spirits.