Jennifer Garner shares proud mum moment – and it's adorable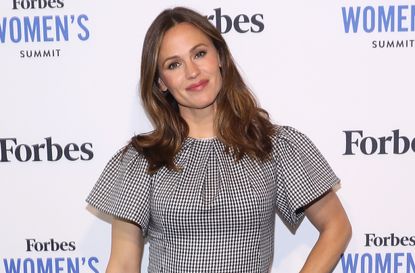 (Image credit: Getty)
GoodTo newsletter
Sign up to the GoodTo Newsletter. You can unsubscribe at any time. For more information about how to do this, and how we hold your data, please see our privacy policy
Thank you for signing up to . You will receive a verification email shortly.
There was a problem. Please refresh the page and try again.
Jennifer Garner has shared a proud mum moment.
The Hollywood actress, who shares children Violet, Seraphina and Samuel with ex-husband Ben Affleck, took to her social media to share an adorable proud mum moment with fans.
Sharing an adorable meme with her 6.8 million followers of a cute otter blushing alongside the caption 'Moms, when we hear our kids being polite', the mum-of-three wrote: 'They're hearing us... 🙏🏻👵🏼 #evenifwecanttell😬 #keepthefaithmamas❤️'.
https://www.instagram.com/p/B1Jy1-CDrTL
Fellow parents flooded the encouraging post with comments on their own experiences with their children.
Love this! Kids need this so much and to be praised when they follow through! ❤️🙌
Many talked about their young children, with comments including: 'Today my 3 year said, "Alexa, play Old Town Road." Alexa misheard and she then said, "No mam that's not what i said. Please play Old Town Road. Thank you." 😂😂', 'Like when my daughter wants to donate her tooth fairy money to charity ❤️' and 'My son started saying "thank you for the compliment" when we say something nice to him and I'm obsessed!'.
Read more: Jennifer Garner reveals the very unusual way she realised she was pregnant (opens in new tab)
While others commented on polite behaviour of their older children, writing: 'I know... I love it when my 17 year old son holds the door open for older people.... 😍',' My son just chose to tip the waitress with his own money after lunch. It was his last $5', and '👍My son still says " please may I have" when asking for anything, he's 21'.
Many even talked about how they find it strange when their kids demonstrate good behaviour, with one writing: 'Happened yesterday. "All right, have a good rest of your day and stuff." - 13-year-old leaving the doctor's office. Weird.'
This isn't the first time the 47-year-old has opened up about parenting on her Instagram page.
https://www.instagram.com/p/BZoPUICjvQ3
She has previously showed off a hilarious note from her daughter (opens in new tab) and talked about the infamous 'Yes Day' (opens in new tab) she has with her children annually.
'You'll never need coffee more than the day after 'Yes Day!' she wrote alongside a photo of her looking tired.
The tradition is a day run by some parents where for a whole day they can't say no to their children.
Aleesha Badkar is a lifestyle writer who specialises in health, beauty - and the royals. After completing her MA in Magazine Journalism at the City, the University of London in 2017, she interned at Women's Health, Stylist, and Harper's Bazaar, creating features and news pieces on health, beauty, and fitness, wellbeing, and food. She loves to practice what she preaches in her everyday life with copious amounts of herbal tea, Pilates, and hyaluronic acid.