John Bishop makes heartfelt speech about loving gay children 'for who they are'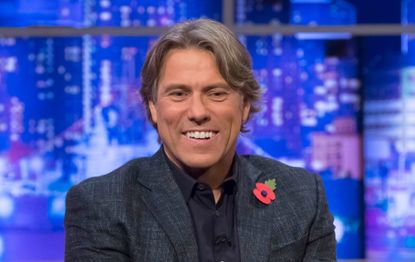 Comedian John Bishop reveals what he's learned since talking openly to his gay son.
In a moving interview on the Jonathon Ross Show, the 51-year-old, who has three sons - Daniel, Joe and Luke - said that having a gay son 'is just like having a son' and has admitted he's learned more since his son came out.
'I wanted to reach out because I've learned more since I've talked more openly with my son.' He went on to urge parents to say 'it's OK' to their children, and to 'allow them to feel safe.'
He went on to say: 'To the kids who are 10 and 11 in the playground and are standing on their own, who don't know where they belong or what group that they belong to, and to play up to something or feel isolated. It's their parents who think "oh no my son doesn't want to play football, he doesn't fit in".'
Before adding, 'Say, "It's OK." Just love them for who they are and allow them to feel safe, and then those little digs and little knocks and the little abuse that they subtly get that we don't know about, perhaps won't penetrate as deep.'
The comedian has spoken in the past about his son being gay, and also made headlines earlier this year when he was awarded the Ally of the Year award at the NatWest British LGBT Awards. He admitted at the time that he was 'massively proud' of his gay son.
At the ceremony, he said that he and his wife, Melanie have problems with their three sons 'like all parents.'
'One of my sons has a tattoo on his ankle that was meant to be Africa but looks like Australia, one of my sons mumbles and one of my sons is a gay man,' he joked
'I'll be honest, there's been loads of nights when me and my wife have sat up and worried and worried and worried. What are we going to do if he doesn't stop mumbling?'
Speaking to Jonathan, whose own daughter Betty Kitten came out in 2011, John said: 'Of the top 10 things I even think about him, being gay is not even on there. He's just another son.'
John received rapturous applause from the audience - and fellow celebrities - for his supportive comments.
Stephanie Lowe is Family Editor at GoodTo covering all things parenting, pregnancy and more. She has over 13 years' experience as a digital journalist with a wealth of knowledge and experience when it comes to all things family and lifestyle. Stephanie lives in Kent with her husband and son, Ted. With his love of choo-choos, Hey Duggee and finger painting he keeps her on her toes.