Actress Kate Mara opens up about her 'frightening' pregnancy condition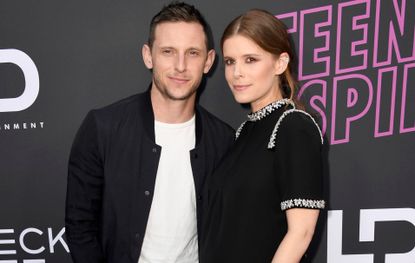 American actress Kate Mara welcomed her daughter with Jamie Bell this May, but the birth came with some complications due to a condition called Cholestasis.
Kate was rushed to hospital at 37 weeks pregnant (opens in new tab) for an emergency C-section, (opens in new tab) after developing a fever and requiring medical intervention. She also had severe bleeding that required a blood transfusion.
Speaking about the birth, the actress said that she suffered from 'terrible shakes' due to the pre-surgery medication, adding: 'I thought my teeth were going to pop out, my jaw was clenched so tight from the shakes, and then I thought, I definitely can't hold her because I can't move. My arms were locked.'
Kate's condition, Cholestatis of pregnancy affects less than 1 per cent of pregnancies, so it's incredibly rare. It's generally diagnosed in the late 2nd or early 3nd trimester. The condition affects the liver and can stop the flow of bile, which breaks down fats in the digestive system.
When the flow is stopped thanks to pregnancy hormones, it can cause the overflow to seep into the bloodstream and becomes dangerous.
The most common and irritating symptom of Cholestasis is extreme itchiness in pregnancy (opens in new tab), which can cause discomfort and worry amongst expectant mothers. Other symptoms include dark urine and pain in the upper abdomen.
Cholestasis is not always an emergency though, with Nursing Professor Clare Kranz saying: 'As with many disorders, there is a severity range.
'Large concentrations or increased exposure to bile are needed to see complications with the fetus. Once diagnosed, the mother will be closely monitored. The amount of acid circulating in her bloodstream can predict the exposure to the infant.'
Speaking about the C-section, Kate said 'I was just super sad. I remember that moment very clearly because I burst out crying and was like, 'I'm scared.''
'I kept really calm for most of those three days but right before I went in for the C-section, that's when I sort of felt the devastation of it and the disappointment of not being able to experience a birth any way that I had hoped' She added.